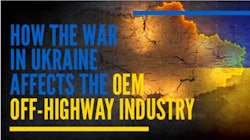 The COVID-19 global pandemic created significant supply chain crises and challenges that affected the world, such as complications involving a disruption in manufacturing sectors, shortages in workforce labor and critical issues with the transportation of products and goods. Even to this day, many industries and businesses are still trying to overcome these challenges, but have experienced an increase in supply chain disruptions because of Russia's invasion of Ukraine earlier this year.
As citizens of Ukraine fight to defend their home, other countries around the world have extended aid and support to Ukraine in various efforts - one being the reduction, suspension or ending of operations and trade of natural resources with Russia. In light of these supportive trade efforts, the U.S. has been putting more time and energy into searching for alternative fuels and manufactured pieces of equipment to make up for the lack of materials that Russia has supplied over time. These continuous supply chain complications, which have only been enhanced by the war, have forced countries to take another look at trade practices to see what can be done to improve the global supply chain crises without the exchange and usage of Russian goods and resources.
DOWNLOAD HOW THE WAR IN UKRAINE AFFECTS THE OEM OFF-HIGHWAY INDUSTRY
Download this FREE whitepaper to learn from experts, Richard Demirjian, President of T/CCi and Marina Mayer, Editor-in-Chief of Food Logistics and Supply & Demand Chain Executive, as they explain which areas the OEM off-highway and supply chain industries have seen an increase in challenges due to the war and the alternative resources are being researched for long-term solutions to be used in the future.
This whitepaper covers:  
Supply chain concerns and the need to find raw materials

Russian oil and gas dependency

Alternative fuels for OEM vehicles

Compressors and new power sources

Other outside influences in the OEM off-highway industry