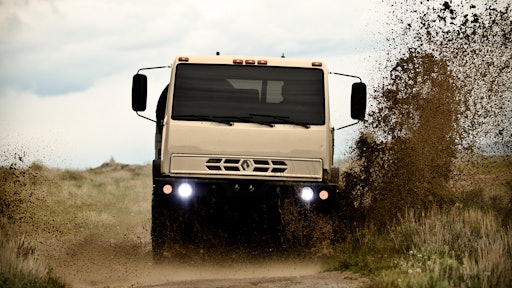 Around the world, in nearly every continent outside of North America, there are multiple variants of extreme-duty commercial trucks that were originally designed as military vehicles. While the primary design purpose of these trucks was military use, each manufacturer has seen the applicability for industries such as heavy construction, open surface mining, oil and gas, and utility.
"If you go to these other continents, you'll see this style of truck anywhere off-road commercial vehicles work, except North America. I don't know why," says Acela Truck Company President and CEO David Ronsen. "Perhaps it's because of the low volume nature of this niche industry that many of the large commercial truck manufacturers in America have shied away from the opportunity."
There was a short-lived exception of a truck company that worked with BAE Systems back in 2007 to build a commercial variant of the U.S. Army Family of Medium Tactical Vehicles (FMTVs), and it was successful, especially in the oil sands of Alberta where hundreds of the vehicles are still in operation. However, after only two short years into the venture, BAE Systems lost the FMTV contract with the U.S. military and the surplus military vehicle supply literally vanished overnight.
Acela Truck Company, at its core, is a chassis manufacturer, and saw an opportunity to fill a need within extreme-duty applications where the standard, commercially available chassis just couldn't hold up to the elements and operational demands. "When we started to look at the Acela business model to purchase surplus military vehicles, put them on an assembly line, strip them down to the frame and completely rebuild them with over 650 new parts, it took us a while to determine if we could even get the parts to get the project started," explains Ronsen.
The parts for the Acela trucks not only had to be military grade, but were ITAR controlled—International Traffic in Arms Regulations, a U.S. regulatory body that controls the export of defense and military related technologies. "We had to go through extensive ITAR background investigations and checks in order to just have access to the parts," says Ronsen. Acela's team, several of which were involved in the former project with BAE Systems, worked to successfully build and solidify relationships with the key tier one suppliers of the military-grade components and systems of the original project, including companies like Meritor, BAE Systems, Dana Corp., Caterpillar Inc. and Allison Transmission. "We were successful early on in our ability to partner with these companies and secure a steady stream of parts.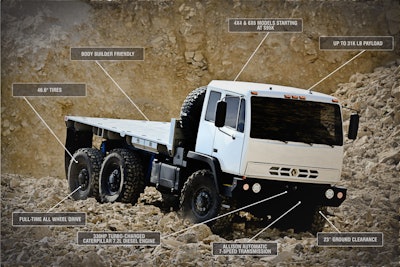 "The next step was heading to the oil sands of Alberta to see how the original trucks had fared over the past several years," continues Ronsen. When the team arrived, they were stunned to find that every single truck that had been sold was still in service—an incredible feat considering the severe conditions of the oil sands environment. "It was astonishing," says Ronsen. "These vehicles had been operating in terrible conditions for 7 years for almost 24 hours a day at times. For every vehicle to still be operational has never been accomplished before. Every truck owner we spoke to about our idea to start the military vehicle reset process up again said, 'Get us more trucks,' which was the major catalyst to get the project underway, and is the reason a majority of our business remains in Canada."
The oil sands are a difficult and extremely abrasive environment to work within for vehicles. The extraction process pulls out the oil suspended in sand 50 ft. (15.2 m) below the surface. Compared to a dough-like consistency, the excavated mixture called bitumen is put through a separation process and the sand is returned to the excavation location. This oil-sand mixture, bitumen, especially in the summer when it becomes more viscous, coats and covers the trucks. "These vehicles are operating in a soup of oil, fine sand, dirt, mud and gravel. You can just imagine how damaging this abrasive mixture can be to the truck," Ronsen says. "That's why we were so surprised to find the vehicles still operating—and at upwards of 96% documented uptime—after 7 years."
When a truck needs to be serviced, it spends at least 8 hours in a pressure washing booth to remove the bitumen before a mechanic can or will work on it, which adds downtime for maintenance. "We received feedback from the fleet owners and operators to make a simple modification to the vehicle and cover the grease points under a module to allow faster servicing. It's a little change but an important one to save the client time on maintenance and increase uptime even more," says Ronsen.
Design, development and modifications
Going into the project with years of previous knowledge, the Acela team knew the process of resetting the military FMTVs was going to be time consuming. While the trucks themselves generally have extremely low mileage and operating hours on them (on average trucks have about 900 hours or less on the engine), there is still the challenge of how long the vehicle has been sitting unused when Acela acquires them. "All of the wear parts crack and break including the seals, hoses, belts and gaskets. Our process starts with the removal and replacement of every wear part on the vehicle—totaling around 650 parts, 100 of which are custom built for Acela. That's a standard process for every vehicle, plus any additional repair parts the truck may need. It's one of the most time consuming processes we do besides the paint process," explains Ronsen.
But, the Acela team had done their homework, and while they knew the teardown process would be time consuming, early on they went back to their Canadian customers and asked about common weak points or wear points. In addition, Acela revisited the military to look at its cumulative operational data for the last several years. From those conversations and research, Acela was able to identify several parts that were in need of updating or re-engineering.
One such custom engineered solution was the vehicle's air conditioning system, which did not exist in the original military vehicle's design. "Basically the entire interior of the operator cab is custom designed by Acela and custom manufactured for this project," says Ronsen. "We have a digital instrumentation panel, a custom power distribution panel, custom ABS moldings, and every other surface the operator comes into contact with including the door handles, the dash switches and interface, and the seats. The original cab didn't even have insulation, but we've been able to create a completely custom cab environment that would compare to any commercially manufactured truck coming off an assembly line from any major OEM in North America," he continues.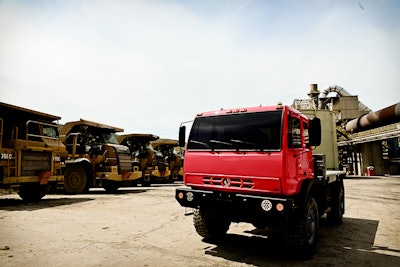 All three of Acela's basic models of its Monterra family of extreme-duty trucks are equipped with a central tire inflation system to take the tires from 95 psi (6.6 bar) down to 17 psi (1.2 bar) for quick highway to off-road environments. The deflation increases the tire's footprint by almost four times to allow it to more closely mimic a tracked solution. For applications where actual tracks are better than wheels, Acela works with several solution providers including Mattracks Inc. for rubber track conversion systems for individual wheels, and Right Track Systems Intl., a provider of track bands for placement around multiple wheels.
While Acela Truck is succeeding in Canada, its goal is to make more headway in the U.S. for applications that range from utility construction to fire trucks and logging equipment. "We will make or provide customization in a fleet situation or where we can additionally achieve a value, but our product already successfully spans the gap between current wheeled vehicle solutions and tracked or articulated vehicles, which are more rugged but significantly more expensive to acquire and maintain."
With a highly over-engineered set of military-grade components supplemented within a custom-updated operator environment, on top of a chassis built to withstand the most extreme environments, Acela is looking to continue to fill the void for an extreme-duty truck for severe off-road applications.
Companies in this article