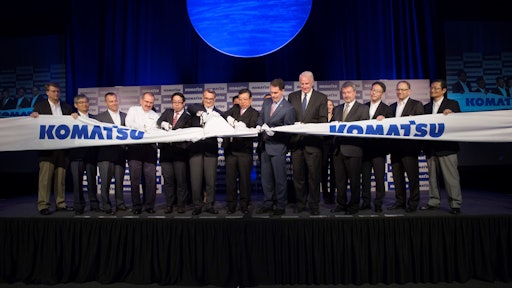 Komatsu Mining Corp.
On Monday, May 8, Komatsu Mining Corp. held a ribbon cutting ceremony at its facilities in Milwaukee, WI, to mark the its official rebranding from the former Joy Global Inc. name.
"This is an exciting moment in Komatsu history." - Tetsuji Ohashi, President & CEO of Komatsu Ltd.
In July of last year Komatsu Ltd. announced it would acquire 100% ownership of Joy Global, marking the largest acquisition Komatsu has ever made. Upon completion of the acquisition, the company announced Joy Global would be renamed Komatsu Mining Corp. and its headquarters would remain in Milwaukee.
Komatsu Mining Corp. will operate as a subsidiary of Komatsu Ltd. and continue to invest and produce products under the P&H, Joy and Montabert product brand names.
"We know success comes from creating value for our customers by helping them improve their safety and productivity," said Tetsuji Ohashi, President and CEO of Komatsu Ltd., during the ribbon cutting ceremony. "This acquisition was an important means of rapidly expanding our ability to create an enhanced value for our customers. The P&H, Joy and Montabert products align perfectly with the existing Komatsu products, allowing us to provide customers with a full set of solutions."
He went on to say the coming together of Joy Global and Komatsu will bring the opportunity to expand each company's direct customer service approach and bring products to market faster. Together, he said the company will better positioned to ensure sustainable growth. When Komatsu celebrates its 100th anniversary in 2021, Ohashi said it will be a stronger company than it is today as the two brands spend the next 3 years integrating with one another, aligning their experience and expertise in mining. "As we move forward to build this exciting milestone together, we must remain committed to the innovations and focus of [our] customers, which we have committed [to] throughout our companies' histories."
Komatsu Mining Corp. President and CEO Jeffrey Dawes (left) shakes hands with Komatsu Ltd. President and CEO Tetsuji Ohashi.Komatsu Mining Corp.
Jeffrey Dawes, President and CEO of Komatsu Mining Corp., said merging teams, products and services makes sense for the companies and their customers. "We have the same priorities and values," he explained, which are focused on safety and putting customers first; ensuring quality and reliability in everything they do; employing diverse people who collaborate globally; partnering with the communities in which they are located to help make them better places to live; and working to create an innovative mining industry. "Joining our customers was not just an option, it was the right fit for a stronger future together," he said.
While change is not always easy and integrating the two companies will pose its challenges, Dawes said it will also provide the opportunity to leverage the best of the best, to improve through the changes, to innovate and to provide even better services to customers to become indispensable partners in their success.
Dawes went on to say the company is headed in the same direction it always was; its vision is to move forward to become an even stronger organization and provide a more comprehensive suite of services, solutions and products for its customers. "With this integration we need to make our company the partner of choice, our products and services the leading option for the global mining industry."
Manufacturing and job impact
Dawes said the Milwaukee facility will continue to manufacture large mining shovels, as well as the other machining and fabrication work it does. He noted the company is currently in the process of reviewing its manufacturing footprint globally, and evaluating whether there are components being built elsewhere that could potentially be brought to Milwaukee.
He also noted that nothing Komatsu manufactures at the Milwaukee facility is manufactured in another location, and vice versa, so there is no competition in terms of manufacturing facilities. In addition, he said the facility's ability to manufacture very large pieces of equipment is not available elsewhere. "We'll be looking to review that manufacturing capability around the world and move our production accordingly," Dawes said.
It is still too soon to tell if, or how, current employees may be impacted by the integration of the two companies. Caley Clinton, Global Advertising & PR Manager - Marketing Communications at Komatsu Mining Corp., said through the integration process the company will be looking at how best to use all employees and facilities it has in order to build a strong future.
She noted that in general, employees have expressed excitement over the potential opportunities of becoming part of a globally known brand like Komatsu, especially after the tough market conditions the mining industry has faced over the past several years.
Governor Scott Walker presents Komatsu Ltd. President & CEO Tetsuji Ohashi with the state flag, welcoming Komatsu to Wisconsin which has historical roots in the mining industry.S. Jensen
"With these types of company mergers, there is always anxiety going forward," said Dawes. "We didn't buy this company to close it up. Quite the contrary; there's experience here—100 years' worth—we want to capitalize on and make it grow." He added the company doesn't know yet the impact, but plans on taking its time to ensure the merger is done right and that any decisions made will be sustainable long term. "It's hard to say at this time exactly what the impact will be here in Milwaukee, but certainly what we have here is extremely valuable."
This sentiment was expressed by Milwaukee Mayor Tom Barrett who said during the event "To have a company with the reputation of Komatsu speaks great volumes about you [the employees], and the work you have done."
Wisconsin Governor Scott Walker concluded, "The fact that Komatsu is making this kind of investment is a reflection upon the quality of the work done here, and on some of the men and women who make the best products in the world every single day."
Companies in this article