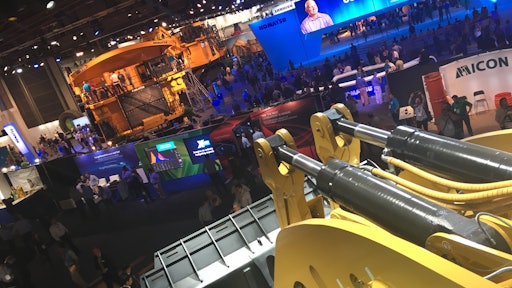 contributed by the National Mining Association (NMA)
In every segment of the mining industry— including exploration, mine development, open pit, underground mining, processing, safety and environmental remediation—mining companies are devoting rigorous attention to purchasing decisions for today and the mining industry of the future.
Held in Las Vegas, September 28-30, 2020, MINExpo INTERNATIONAL is the largest and most comprehensive industry event to explore cutting-edge equipment, services, technologies and innovations for all mining sectors. Industry professionals can purchase equipment, parts, and services from the biggest names in the industry as well as discover new solutions from groundbreaking start-ups. In addition to equipment and innovations, MINExpo is also the place to discover software and solutions that digitize the back office, increase productivity, improve health and safety, advance environmental protection, and boost profitability.
The extensive show floor includes more than 1,800 leading suppliers who can demonstrate the equipment and services in the 12 halls — advanced instrumentation, AI, robotics, automation, mobile technology, data analytics, sensors, tires, lubricants and more. The 850,000 square foot exhibit hall also provides opportunities to discuss specific challenges with knowledgeable technical experts and uncover advancements driving every sector of the industry. Technical staff on the show floor are available to address operational issues and challenges, identify specific solutions, and streamline operations, all in three powerful days.
MINExpo 2020 is also a huge nexus for international organizations. Exhibitors from over 30 nations demonstrate their solutions for specific market-related issues, operations, and workforce and safety processes. It is the optimal place to build a global network of partners, engage in face-to-face meetings, and discuss business requirements with international providers.
Held every four years and sponsored by the National Mining Association, MINExpo also provides 20 technical sessions that bring together industry leaders to address today's operating issues and the needs of mines of the future. To look at this year's show features, and information about attending, visit minexpo.com.
To register for the event, go to minexpo.com/registration-2020.