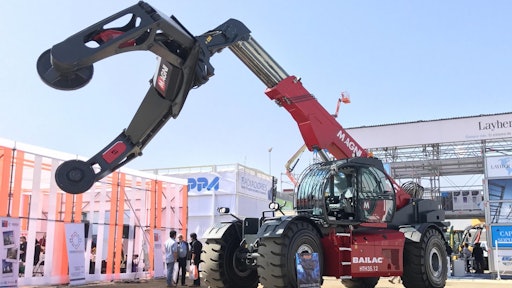 Magni
Magni Telescopic Handlers is set to exhibit its lines of Fixed Boom, Rotating, and Heavy Lift Telehandlers at MINExpo 2021 in Las Vegas for the first time. Magni will highlight how their telehandlers can help mines increase profits and create safer working environments.
Magni will feature its Rotating Telescopic Handlers (RTH), a line of versatile and flexible machines that can be used for many applications at mines. Magni rotators serve as several machines in one and can be equipped with various accessories such as forks, winches, platforms, and many specialty attachments. Users benefit particularly from the 360-degree rotation of the RTH, that helps them increase production speed. Magni's RTH line offers 16 models with lifting capacities from 8,800-28,600 lbs. and lifting heights from 58-167 ft.
Magni will also show its fixed-boom lines of telehandlers with machines built for underground work and extreme lifting applications. Magni's Heavy Lift Telehandlers have attachment's purpose built for mines, including forks, tire handlers, cylinder handlers, and conveyor belt attachments. Magni's telehandlers offer lifting capacities from 11,000-110,000 lbs.
For enhanced safety, all Magni telehandlers have a patented load control system that detects the risks of overload during use and prevents further movements helping create a safer working environment in mines.
"This is our first time attending the MINExpo, and we are very excited! We've seen a lot of interest in our equipment in mines. Magni Telehandlers are a game changer for mines, and we are excited to show off what Magnis can do in September," said Joe Lienwol, Chief Sales Officer at Magni America.
Magni will be exhibiting in the Central Hall at booth 9013.