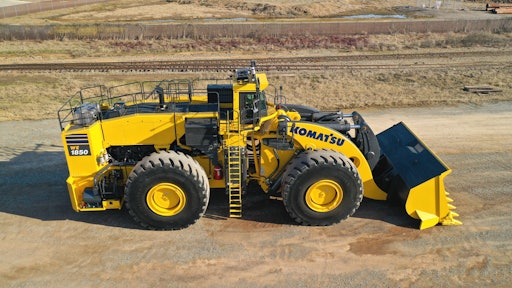 Komatsu Mining Corp.
*Editor's Note: This news item was originally published July 20 and updated September 21 with additional information.
To help support its customers' sustainability targets while prioritizing safety and productivity, Komatsu focused on "creating value together" in its 48,000-sq.-ft. booth at MINExpo 2021, where the company unveiled its latest solutions for surface and underground mining operations.
"MINExpo provides the perfect opportunity for industry leaders to collaborate on new ways to extract essential minerals at this critical time for our society," said Jeff Dawes, President and CEO of Komatsu Mining Corp. and chairperson of MINExpo 2021. "Supporting our customers' path forward with new solutions that leverage digitalization, electrification and automation is crucial to our role as an essential provider to the industry, and we look forward to sharing these innovations developed in partnership with today's mines."
The company's latest haulage concepts, designed to prioritize customers' desire to reduce emissions and for autonomous haulage solutions, were on display, revealing Komatsu's future vision for power agnostic dump trucks and autonomous haulage retrofits for existing equipment. Komatsu also previewed future capabilities for remote operation of equipment featuring hydraulic excavators and autonomous haulage.
Other new Komatsu solutions designed to advance more sustainable mining methods that will be on display include:
WE1850 Gen 3 surface wheel loader with proven SR (Switched Reluctance) hybrid drive technology
ZR122 surface blasthole drill with automated features
Battery hauler for underground mining powered by lithium-ion battery technology
Battery-tram powered ZJ32Bi jumbo drill for underground hard rock mining
Underground hard rock drilling and bolting retrofits compatible with all major and most other OEMs
Created with input from customers around the world, the company's latest equipment, service and technology solutions are designed to simplify tasks, streamline processes and, ultimately, help optimize customers' entire enterprise. Recognizing that the path forward will not look the same for every operation, Komatsu is here to support customers at each stage of their journey toward a more sustainable future.
New hoseless battery-electric jumbo for underground hard rock mining
Komatsu introduced a new underground hard rock drilling machine with several advanced features originating from customer input and collaboration, including hoseless booms. The ZJ32Bi is a battery-electric, medium-class jumbo built on a common platform for increased user adoption and efficient training. The new machine offers a standard reduced hose configuration — only six per boom — with a hoseless option. At MINExpo 2021, Komatsu exhibited the new jumbo with two booms and zero hoses.
The hoseless boom completes all fluid and communication transfer inside of the boom cylinder, offering a potential game-changer in terms of automation and productivity. A hoseless boom also eliminates the need to account for hoses in automation algorithms and eliminates wear between the inner and outer boom tubes for improved drilling accuracy over time.
Because of the common platform of the ZJ32Bi, it essentially becomes a multifunction drilling machine.
Other key features of the ZJ32Bi include:
An intelligent control system that allows for semiautonomous functionality or operator augmentation
A modular battery-electric driveline with up to 130 kW (65 kW base) of onboard energy for the demanding tram cycles and rigorous hard rock mining
A newly designed fully enclosed operator cabin with advanced noise reduction, operator ergonomics, double-curved glass with a focus on air cleanliness
Lightweight, durable feeds in fixed and double telescopic versions, featuring cast polyurethane components to reduce weight and help improve longevity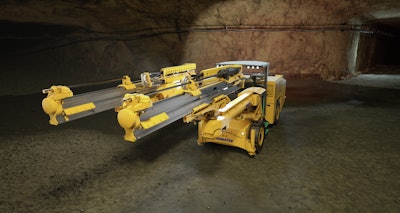 Additions to room and pillar mining equipment lineup
To demonstrate its continued support of, and collaboration with, soft rock operations, Komatsu has introduced new machine features and a next-generation conveyor chain to help mines maximize uptime and achieve productivity goals. These offerings debuted at MINExpo 2021 include the 12HM46 continuous miner with the new Titan Cutter Head, the BH-18A battery hauler with new lithium-ion battery technology, and the NXT Single Sprocket Conveyor Chain — all designed to help operators make progress with automation and solve common issues experienced by today's mining companies.
"Productive room and pillar mining comes down to having the machines and parts that can help soft rock mining operations extract and haul more coal and industrial minerals in less time," says Jim Haughey, product director. "With these new features and a next-generation conveyor chain design, operators have tools that can help them hit their productivity targets while making inroads into automation."
Engineered for the rigors and unique challenges of underground room and pillar mining, these three offerings provide distinct advantages:
The 12HM46 continuous miner with Titan Cutter Head is Komatsu's largest and most powerful drum-style continuous miner with 50% more cutting power and 70% more productivity potential than the company's other continuous miners. The machine is engineered specifically for industrial mineral applications, like trona, gypsum, potash and salt.
The BH-18A battery hauler with new lithium-ion battery technology is designed to deliver improvements in productivity, sustainability and cost compared to traditional lead-acid battery technology. Lithium-ion batteries can power a hauler up to 136,000 feet per charge vs. 115,000 feet for lead-acid batteries, and charge in less than 2.5 hours.
The NXT Single Sprocket Conveyor Chain features a new patented chain link with dirt relief technology that is 46% stronger than previous models for improved reliability. Dual scraping flights are designed to solve issues that could lead to premature chain failure, and other innovations improve the time necessary to change flights and connecting links. This quality part is designed for both continuous miners and shuttle cars.
"These three offerings represent our ongoing commitment to collaborating with our valued customers to help them solve today's room and pillar mining challenges, hit coal and industrial mineral extraction and haulage targets, and further their automation efforts," says Brian Thompson, vice president, mining and crushing systems. "They also reflect our dedication to detail by bringing engineering innovations to something as simple, yet critical, as a conveyor chain."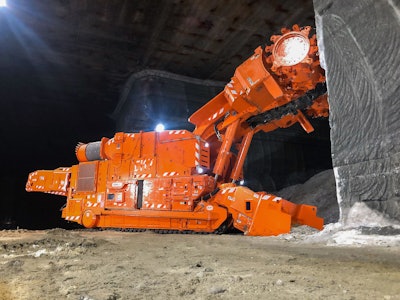 Newest blasthole drill provides high productivity and versatility to work in diverse conditions
To support customers that want to boost productivity with an advanced drill, Komatsu has premiered its newest blasthole drill, the ZR122. Engineered for high productivity drilling in tough rock conditions, this drill is built to help reduce maintenance costs, support fully autonomous operation, and can be configured for rotary and hammer drilling, diesel or electric power, and single- or multi-pass drilling.
As part of the ongoing process to integrate its legacy brands into One Komatsu, the newest drill model and technology was showcased on the Komatsu ZR122 with the new look and branding. This new look will transition legacy brands to the Komatsu brand this year, which includes the P&H 77XR.
Designed to increase drilling time, the rack-and-pinion pulldown system reduces the maintenance time required to support the old cable or chain pulldown and the boxer style mast reduces downtime for structural inspections.
To help reduce bit change downtime and worker risk associated with a manual changeout process, an advanced auto-bit changer carousel helps to flex into a new hole diameter rapidly so operators can seamlessly adapt the drill pattern to reach peak fragmentation quickly. The one-touch, auto-bit operation keeps productivity going with a five-minute change.
Customers can elevate their mine's productivity by improving drilling accuracy with high-precision GPS through auto-navigation capabilities, allowing line-of-sight tele-remote operations from up to 1 mi. away.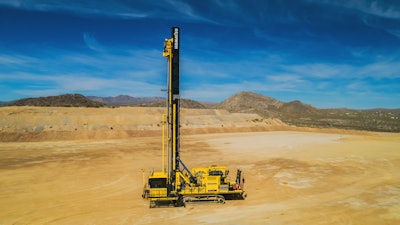 Concept autonomous water truck to be available in 2022
Komatsu announced during MINExpo it has been trialing an autonomous water truck, based on its proven Autonomous Haulage System (AHS). The technology on the concept HD785-7 truck autonomously controls both the truck's movement and water disbursement through the same platform.
Komatsu is working to introduce the HD785-based autonomous water truck as a commercial offering in 2022 to help enhance safety and productivity in mines. Komatsu's AHS enables the water truck to travel autonomously on a pre-defined haul road and work cooperatively with other autonomous trucks and staffed equipment. The system controls the amount of water disbursed, according to the vehicle speed and haul road inclination, and also manages the watering history to avoid overwatering.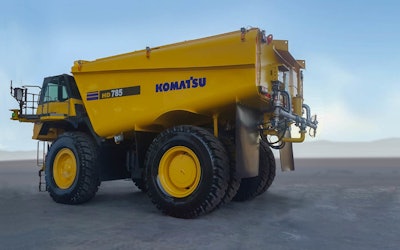 The company announced that just before MINExpo, its AHS has now hauled over 4 billion metric tons of material. It was first deployed in 2008 at CODELCO's Gabriela Mistral (Gaby) copper mine in Chile. AHS brings together Komatsu ultra-class dump trucks with Modular Mining's DISPATCH Fleet Management System.
Now with 14 years of commercial operation, zero system-related injuries have been reported.
Today's FrontRunner system operates around the clock, supporting customers hauling copper, iron ore, oil sands, and coal at 13 active sites across three continents. As of September 2021, Komatsu has over 400 trucks commissioned with its autonomous system.
"It has been gratifying to help customers save hundreds of millions of dollars while autonomously moving another billion metric tons of essential minerals," said Anthony Cook, vice president of autonomous systems, Komatsu. "Our customers' continued investment in the technology and equipment to transition to autonomous haulage supports the evolution of mining methods and opportunity for advancements in safety and production."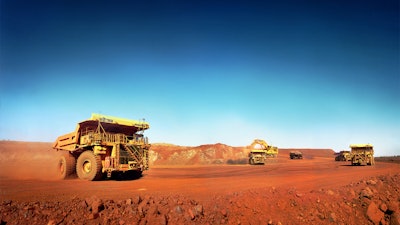 AC-Power now offered on P&H electric rope shovels
To provide customers up to 6% improvement in productivity compared to DC-powered models, Komatsu is now offering all of its P&H electric rope shovels as AC-powered machines going forward. The production improvement gains are measured by comparing machine performance data. Furthermore, several Komatsu customers have reported that they can regularly achieve higher productivity with the company's AC models.
Working with its customers to better meet the needs of the evolving mining market, Komatsu reports the following advantages of AC machines over DC machines:
Improved productivity: faster cycle times, no transfer-to-propel delay
Less power used: higher efficiencies with AC motors and power converters result in lower electricity (kilowatt hour) usage per ton moved for a more sustainable product offering for today's mines. With increased productivity and availability, the AC platform is consistently shown to be a higher-performing machine.
Lower maintenance and repair cost: reduction in parts/components costs (e.g. motors – no brush inspections or change-outs, no commutator stoning or skimming), and a reduction in labor cost
Increased availability: field observed mechanical availability increase of one to two percent. This increase is primarily driven by increased MTBF (mean time between failure) of the electrical system. AC motors and drives require fewer static maintenance checks, resulting in more efficient planned maintenance, and an overall improvement in maintenance labor ratio.
Now that AC models are available in all size segments for customers, Komatsu will focus its OEM production and development efforts on the higher-performing AC line of electric rope shovels. The company will continue its global support of the existing DC shovel market, however, providing customers around the world with innovative service, parts, technology advancement and all aftermarket services. Where possible and supported by DC technology, product upgrades, including Centurion upgrades, will continue to be provided for the more than 400 DC-powered Komatsu shovels in the field.
"With over 100 P&H AC shovels operating globally, we are confident in our shift to the AC shovel platform," said Brian Fox, VP Mining Products, Komatsu Mining. "However, we remain fully committed to working with our customers to keep their existing P&H DC shovels running far into the future."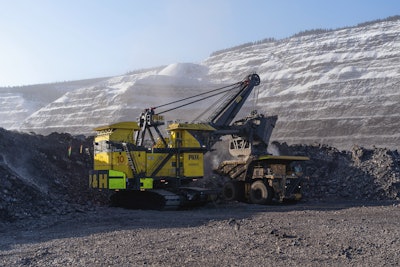 Modular Mining and Immersive Technologies launch Guided Spotting simulation system
Modular Mining, a Komatsu technology brand, and Immersive Technologies, a Komatsu subsidiary, have announced support for ProVision Guided Spotting for Immersive Technologies' range of haul truck simulator Conversion Kits. The Guided Spotting simulation was developed to accelerate the deployment of Modular Mining's Guided Spotting system without impacting production.
By uniting Immersive Technologies' and Modular Mining's expertise in training and workforce development, and load and haul optimization, mines can experience enhanced technology adoption faster without needing to remove haul trucks from production.
Modular Mining's Guided Spotting system is a high-precision machine guidance tool for haul trucks designed to improve efficiency, safety and productivity at the loading site by allowing operators to confidently reverse into the best loading position without needing to pause or stop.
"Using high-precision GPS, Guided Spotting reliably guides haul truck operators to the correct loading position while the shovel continues productive work," said Zilmar Siqueira, product manager – Machine Guidance Systems, Modular Mining. "The easy-to-use displays help take the guesswork out of reversing, enabling mines to reduce their shovel hang time and increase productivity. It does this by eliminating bucket spotting and reducing the probability of a truck-shovel collision in low visibility conditions."
Siqueira continued, "Like any new technology introduced onto a mine site, the rollout of training can take time, "By partnering with Immersive Technologies, we have been able to reduce that initial loss of production and accelerate the speed of deployment, which enables customers to reap the value of the system much sooner."
Immersive Technologies' full range of Haul Truck simulator Conversion Kits can be configured to support Guided Spotting via a software update.
"Simulator training can greatly reduce in-field and total training time, which helps minimize the impact to production and allows the benefits of Guided Spotting to be realized faster," said Greg Karadjian, senior vice president – Asia Pacific, Immersive Technologies. "More importantly, it enables the operator to train in a controlled environment that reduces operator exposure and potential damage to a mobile plant."
"When you need to take out multiple trucks and hundreds of operators to train them on a new system, it poses significant costs to any operation. The implementation of Guided Spotting for our haul truck simulators means mines can minimize the time operators spend training, and doesn't remove equipment from production," said Karadjian.
The Guided Spotting simulator training has already been rolled out at an African Platinum mine and is scheduled to be adopted across three additional mines this year.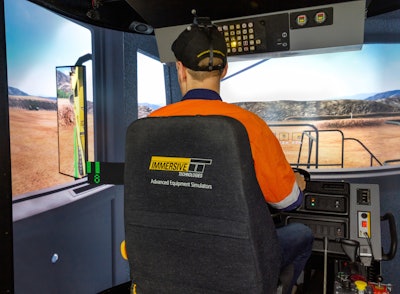 Companies in this article