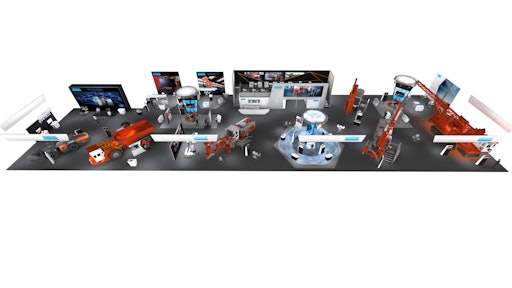 Sandvik
Sandvik will have several of its latest innovations on display for the first time anywhere at MINExpo INTERNATIONAL® 2021 in Las Vegas, September 13-15, including its AutoMine Concept vehicle. The first fully autonomous battery-electric vehicle (BEV) for underground mining is equipped with new sensing capabilities and artificial intelligence to help the cabinless technology demonstrator perceive its surroundings and environment in 3D and react in real time, enabling it to adapt and plan its own route and to find the most suitable paths even in continuously changing environments.
In addition, Sandvik will unveil its latest battery-electric underground truck in Las Vegas, together with a virtual introduction to new loader technology with AutoMine readiness. Sandvik will also launch Sandvik DS412iE, its first battery-powered rock bolter that rounds out the company's first full zero-emissions offering for all underground drilling applications.
"We were proud to launch the industry's first battery-driven underground jumbo 5 years ago at MINExpo INTERNATIONAL® 2016, and we're proud of our ongoing progress in electric equipment innovation since then," said Henrik Ager, President of Sandvik Mining and Rock Solutions. "We continue to expand our offering, and our latest battery-electric equipment contributes to a cleaner and quieter environment without compromising safety, productivity or efficiency."
Sandvik's 20,200-sq.-ft. (1,876-sq.-m) exhibit at Central Hall 3, booth #6212 will demonstrate the company's commitment to "Innovation in mining – make the shift," a theme that underscores its focus on helping customers mine more sustainably through technology.
"Sustainability and productivity go hand in hand, and our latest solutions will help the industry make the shift to more sustainable mining," Ager said.
On the surface drilling side, Sandvik will showcase the Sandvik DR410i rotary blasthole drill rig, Leopard™ DI650i down-the-hole drill rig and Pantera™ DP1600i top hammer drill rig, part of the Top Hammer XL system. Booth visitors will also learn more about AutoMine® Surface Drilling, an automation system for fully autonomous and tele-remote operation of a wide range of intelligent Sandvik surface drill rigs. The AutoMine® system's new AutoCycle functionality enables a fully autonomous drilling cycle with hole-to-hole tramming for automatic rig relocation according to the drill plan.
In addition to displaying its latest rock tools offering at MINExpo, including the recently launched Sandvik LT90 top hammer tool — part of Top Hammer XL — Sandvik will launch a new DTH hammer with class-leading fuel efficiency. The company will also launch a new rotary bit, new heavy duty drill bits, a new drill bit for autonomous drilling and its latest digital rock tools solutions, all developed to increase sustainability and productivity. Sandvik will also launch the new Sandvik RD212 and Sandvik RD315 rock drills at the show.
Sandvik will use a simulation game to introduce its new digital offering, Remote Monitoring Service, and will also showcase its smart inspection tools through interactive demonstrations.
MINExpo attendees can also expect some exciting news about OptiMine®, the most comprehensive suite of digital tools for analyzing and optimizing underground hard rock mining production and processes.
Other exhibit highlights include Sandvik's latest training simulators and live presentations by Sandvik's AutoMine® and OptiMine® ecosystem partners. Representatives from Sandvik Financial Services will also be available at the booth to discuss possibilities for financing equipment.
Sandvik will draw on its successful "Innovation in Mining Virtual Event" last September to enable those who will not be in Las Vegas to share the MINExpo experience. The company will soon launch a dedicated microsite that will include an interactive virtual booth, live chat functionality and videos from the show.
During the countdown to MINExpo, the first iteration of the microsite features a welcome video from Henrik Ager, President of Sandvik Mining and Rock Solutions, and a content library containing videos, photos and information about many of the products, parts and services that Sandvik will display at the show. The microsite also features a preliminary schedule of interviews that will be livestreamed from the show floor to the Sandvik Mining and Rock Solutions LinkedIn, Facebook and YouTube channels and collected on the microsite throughout MINExpo.
As soon as the show opens in Las Vegas at 9 a.m. Pacific Daylight Time on September 13, additional microsite features will go live. Visitors will be able to explore a 3D version of Sandvik's exhibit. Clickable hotspots in the 360-degree rotatable virtual booth will include introductory videos for each product division and other related content.
"Nothing beats meeting customers face-to-face and being able to showcase all of our latest developments in-person," Ager said. "However, we also understand that not everyone will be able to travel to Las Vegas, so that's why we will also be providing a rich digital MINExpo experience."