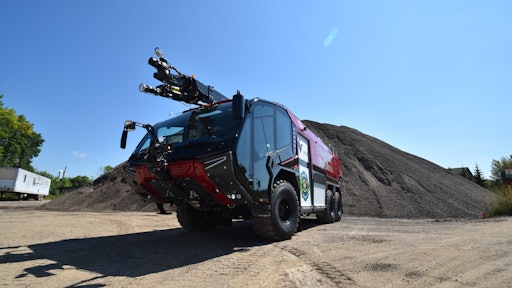 Volvo Penta

Fire and emergency response vehicle manufacturer, Rosenbauer, and global engine manufacturer, Volvo Penta, are spotlighting the advantages of Rosenbauer PANTHER aircraft rescue and firefighting (ARFF) vehicle over traditional structural trucks at this year's MINExpo International. The Volvo Penta-powered Rosenbauer PANTHER is gaining attention in the mining industry for its speed, agility, acceleration, dependability and overall performance. A case in point is the recent collaboration with Vale's Base Metals business, the world's largest producer of iron ore and pellets, on a new PANTHER fire apparatus for Vale's Voisey's Bay mining operation. While most mining companies rely on standard structural fire trucks to protect their facilities and equipment, Vale will utilize Rosenbauer's 6x6 PANTHER to safeguard their mining operations in the remote, northern Canadian location.
"Our Voisey's Bay Mine site in Labrador is a remote fly-in/ fly-out mine site. Being a remote site in Northern Labrador, we experience inclement weather, travel on dirt roads, and have limited water supply in certain areas of site, so we need a fire truck that can respond to any emergency in a challenging environment. We believe the new truck can handle anything from an aircraft emergency, to a 777 fire and site accommodations fire safely," says Patrick Boitumelo, head of mining and milling with Vale's North Atlantic Operations. "Our everyday routines are centered on our fundamental value that life matters most – and that safety will always be our highest and most important priority. This new addition to our emergency response team will help us if needed to see our employees home safely at the end of their rotation."
The PANTHER is built for off-road use, disperses 9,000 L of water/foam per minute, and has the ability to extinguish a fire considerably faster than standard over the road structural trucks used at most mining operations. The power behind the vehicle is Volvo Penta's reliable 16-liter 700 hp engine that is compliant with the latest Tier 4 Final emission standards.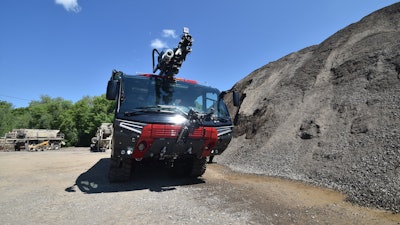 The PANTHER
The PANTHER is equipped with a Rosenbauer N80 pump that can discharge up to 9,000 lpm a distance of over 100 m (over 320 ft.). In addition to the significant increase in discharge capability over structural units, the PANTHER also has 1,500 L of foam onboard that is specially designed for fighting fuel fires and 225 kg of dry chemical agent used for fighting difficult three-dimensional fires expected from the massive mobile equipment used at mines. Each of these agents can be discharged as the PANTHER is arriving at the fire by a single person from inside the cab.
The PANTHER also has the ability to pump while in motion. Its Volvo Penta D16 engine provides enough power to split output between the fire pump and transmission to give these vehicles their unique pump and roll capability – something structural fire trucks don't offer.
What makes the PANTHER particularly special is the perfect integration of its chassis, superstructure and extinguishing technology systems, which not only creates maximum driving dynamics, but also safety and reliability. The uncompromising all-wheel-drive system with rigid axles and coil springs designed for off-road use gives a smooth ride even over rough ground and accessibility to almost any location on a mine site.
"While a standard structural truck is made for highway use it's been utilized within the mining industry as if it's for off-road use," said Duane Kann, Rosenbauer ARFF regional sales manager and retired Fire Chief from Orlando International Airport. "This practice can cause a lot of hidden damage to the structural integrity of the truck, as well as other issues that ultimately increase maintenance costs and reduce replacement times. More importantly, structural trucks may not be able to directly access many locations within the mine site when needed."
To ensure the truck can perform in emergency situations, it is fortified with the Volvo Penta D16 700 hp engine. The reliable, high-performance engine makes the truck capable of quick acceleration and high speed, which is essential in this critical environment.
"When it comes to fire suppression or hazard mitigation at a mine site, every second counts. Volvo Penta and Rosenbauer deliver a solution that is instantly ready to deploy and can reach the scene quickly to reduce the risk of operational losses and potentially save lives," said Darren Tasker, vice president of industrial sales for Volvo Penta of the Americas. "With proven Tier 4 Final off-road engine technology, service intervals of up to 1,000 hours, and a decided global service network, our entire offer centers around ensuring maximized uptime for mining operators."