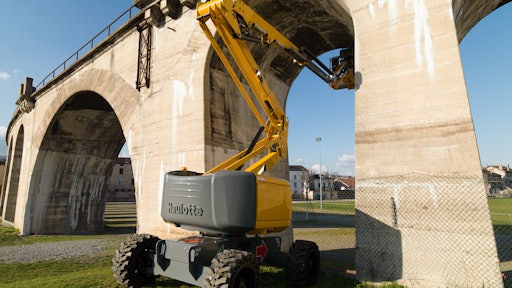 The people and material lifting equipment specialist, Haulotte Group, looks forward to giving its customers and partners a warm welcome at its stand G-3155 (Gold Lot) to exchange views, communicate strategic commitments, and demonstrate our expertise by exhibiting a wide range of Products and Services.
For CONEXPO 2017, Haulotte will exhibit the equipment which perfectly meets customers' requirements.
U.S. PREMIERE
At the show, Haulotte will premiere to U.S. customers its rough-terrain telescopic boom HT85 RTJ O featuring: 
New ACTIV'Lighting System
New generation of secondary guarding system
Improved outreach and simultaneous movements
Dual Load Capacity option
On-board diagnostic system
Telematics ready
Stop Emission system
Modular platform
For operators, comfortable operation is essential when working at a height of 91 ft. This telescopic boom offers unparalleled flexibility and precision, giving users greater confidence and letting them reach the desired work area quickly and safely.
For rental companies, the HT85 range was designed to withstand intensive use while offering stress-free maintenance. Haulotte Group is thus looking to address a main concern: a durable machine that requires little maintenance and keeps costs at a reasonable level.
Articulated boom HA61 RTJ
The HA61 RTJ, has a sleek design reflecting Haulotte's commitment to offering machines "made for your business."
Every detail has been brought to an optimal level of performance to meet three objectives: maximize productivity, take care of your budget, and ensure the safety of the operators.
Its strengths:
The ideal combination weight-dimensions-power performance
Comfort and ease of use
Modular basket even more robust, more durable and ergonomic
Articulated boom HA46 RTJ
The HA46 RTJ has been designed to meet customers' requirements with a machine that is robust, reliable and easy to maintain with optimal performance and a high level of safety. The new HA46 RTJ range consists of multipurpose machines that suit many types of applications such as building works, finishing, maintenance, demolition, pruning, etc.
This machine has best performance in its class:
Fastest lifting speed in 40 seconds
Modular basket that allows change in an hour
Reduces fuel consumption by 15%
New STAR 13 Picking, safety without compromise
STAR 13 PICKING is the ideal new solution for executing day-to-day work in retail indoor applications: stock-checking, inventory, order and stock picking, decoration applications, POS (Point-Of-Sale) signage and also building maintenance.
With the new vertical mast, STAR 13 PICKING offers uncompromising safety with:
High productivity
Guaranteed comfort
Easy maintenance
Rough-terrain telescopic boom HT67 RTJ
An aerial work platform which beats all records and delights users with best in class performances:
The best working envelope
The fastest lifting speed
Fully proportional and simultaneous movements which results in optimal productivity
Trailer-mounted Boom 6543 A
The trailer-mounted boom 6543 A features hydraulic outriggers and automatic leveling to allow operation in under 30 seconds. Additional features include: 
Superior combination of industry leading capacity and outreach
Can be towed by a standard half-ton pickup truck - No commercial driver's license needed
The new Optimum 1931 AC, a force of energy
Optimum 1931 AC is able to navigate worksites indoors and outdoors, and is economical in all circumstances:
Nothing stops it
Always ready for action
Incredibly economical
Compact 2632 E: agility and performance
An electric scissor lift, Compact 2632 E is ideally suited for working in congested areas. A stowed height of only 3 ft. 8 in. makes it possible to pass through standard doorways.