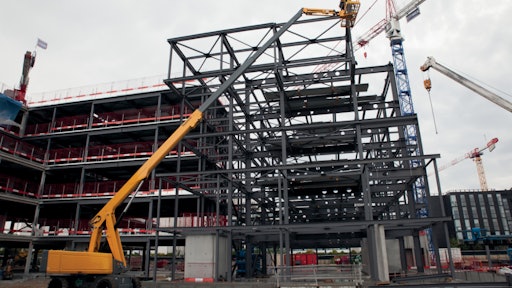 Designed for all applications, the versatile HT85 range (HT28 in parts of the world other than the U.S.) from Haulotte Group easily adapts to all projects: Building works, finishing, maintenance and inspection work, renovation of buildings, demolition, shipyard construction, mining operations, landscaping and tree surgery.
GUARANTEED SAFETY
To simplify loading and unloading the boom on a truck while enhancing user safety, Haulotte Group developed an innovative and ultra-high-performance lighting system, ACTIV'Lighting System-Safe Load. The HT85 range is the first to feature this system. Located at several points around the machine, this lighting system illuminates controls and the area around the boom. Users can thus safely carry out their maneuvers.
Perfectly integrated into the upper control box cover, the new generation of secondary guarding system Haulotte Activ'Shield Bar 2.0 offers additional protection, shielding users from any risk of crushing without compromising productivity.
GREATER PRODUCTIVITY
To make life easier, Haulotte Group took care to design a telescopic boom that keeps its promises:
With a maximal outreach of nearly 78 ft. 2 in., users can reach even the most inaccessible work areas.
Thanks to perfectly simultaneous movements, the telescopic boom quickly extends to full height, saving considerable time to reach the work area.
Due to machine weight limits, users cannot always load all of their equipment at once. The HT85 range addresses this issue by including a 500 lbs./770 lbs. dual load capacity as an option. In 770 lbs. mode, the platform can accommodate an extra 40% of equipment by weight.
The HT85 range was designed to move easily, even on rough terrain or inaccessible areas. It offers the following advantages:
An oscillating axle for superior ground adhesion;
Hydraulic differential wheel lock to effectively distribute power to the wheels;
High ground clearance to get over obstacles;
Gradeability up to 45%.
To make life easier for users, Haulotte Group developed many options such as a glazier kit, plumbing kit, non-marking tires, hydraulic generator, hostile environment kit, and air line in the platform.
MAXIMUM COMFORT
Like all new machines developed by Haulotte Group, the HT85 range incorporates:
A standard upper control box designed to carry out drive and elevation movements with accuracy and precision.
A standard tool tray, practical for carrying and ensuring easy access to equipment.
ENHANCED DURABILITY
Like all new machines developed by Haulotte Group, the HT85 range incorporates the latest design standards, ensuring robustness and high durability to maintain greater resale value:
Anticorrosion treatment
Reinforced hoods
Upper control box protected with highly resilient protective housing
Weighing system does not come into contact with the ground
Steering rods located inside the frame to protect against impact
EASY MAINTENANCE
The HT85 range is equipped with the ACTIV'Screen on-board diagnostic system, a comprehensive tool that provides access to:
details and the complete malfunction resolution procedure;
machine settings;
maintenance alerts and service intervals ;
modifications of general settings such as interface language and units of measurement.
ACTIV'Screen acts as a veritable assistant, supporting users daily in carrying out maintenance operations.
For fleet management, the HT85 range is equipped with a universal telematics connector as standard. As it adapts to any type of telematic system, it allows you to quickly connect your own telematics devices to the Haulotte machines. It gives you the capacity to manage all your equipment without being obliged to use a specific telematics solution.
COST EFFICIENCY
When operators are working at height, the engine often runs for no reason, resulting in the hourmeter counting hours unnecessarily.
That is why the HT85 range is equipped with the innovative STOP Emission System that automatically stops and restarts the engine. The system reduces use of the engine and peripheral components by up to 20%, thereby extending the life of your engine and assuring higher residual value. In addition, by decreasing fuel consumption, operating costs are lowered.
And as the machine produces up to 20% less noise, operators can work in sensitive areas (hospitals, schools, office buildings, etc.).
The platform and cover hoods are made up of easily dismantled components. In the event of wear, you need only replace the damaged part rather than the entire assembly: simple, quick and more economical.
For operators, comfortable operation is essential when working at a height of 85 ft. These telescopic booms offer unparalleled flexibility and precision, giving users greater confidence and letting them reach the desired work area quickly and safely.
For rental companies, the HT85 range was designed to withstand intensive use while offering stress-free maintenance. Haulotte Group is thus looking to address a main concern: a durable machine that requires little maintenance and keeps costs at a reasonable level.
Offering maximum safety, the Haulotte Aerial Work Platforms comply with the most advanced international regulations notably with the North American, European, Asian and Australian standards.