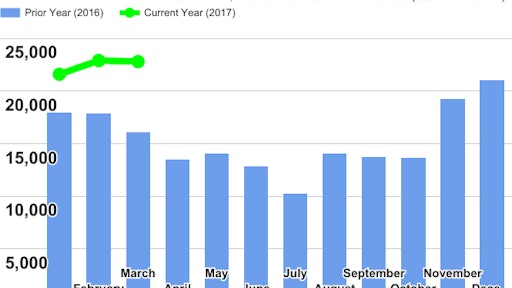 FTR reports preliminary Class 8 net orders for March at 22,800 units, slightly above expectations and much higher than a year ago for the third consecutive month. March orders were basically flat month-over-month (m/m) and up 41% year-over-year (y/y). Backlogs are now close to where they were a year ago, and production rates are expected to increase significantly beginning with March totals. Orders are forecast to stay close to this level through May, similar in trend to 2013. Class 8 orders for the past 6 months now annualize to 243,000, consistent with expected future build rates. 
Don Ake, Vice President of Commercial Vehicles at FTR, comments, "March orders are reflective of a more normal Class 8 market in a moderate, freight-driven upcycle. Replacement cycles are now getting back into a more traditional pattern. This reflects growing fleet confidence as they see freight growth returning after a difficult 2016. OEMs are ramping up production in response. There is renewed optimism in the industry.
"This is a reserved, contained market upswing. It means it is easier for the OEMs to increase builds gradually and prices don't fluctuate as much. It provides some market stability. It is good for the industry, and a good sign for the economy in the second half of the year." 
Final data for March will be available from FTR later in the month as part of its North American Commercial Truck & Trailer Outlook service.