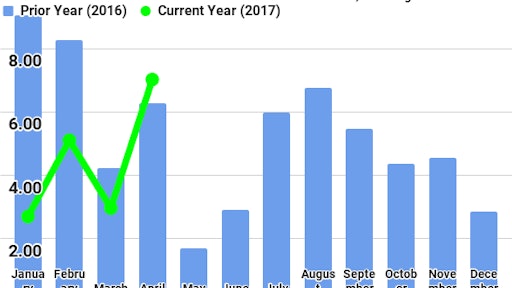 FTR's Trucking Conditions Index (TCI) for April bounced back to a reading of 7.03, up more than four points from March. As detailed in the June issue of the Trucking Update, FTR expects industry conditions to improve despite current year-over-year weakness in contract pricing. Freight demand is moving higher as the industrial sector continues to improve with capacity tightening. The first quarter of 2017 registered the second strongest freight growth of the current recovery. The balance of 2017 is expected to grow more modestly. FTR forecasts the Trucking Conditions Index may fall off somewhat from the April reading in the next few months, but it is expected to remain in mid-range positive territory through 2018. 
Jonathan Starks, Chief Operating Officer at FTR, comments, "Overall, our expectation of improvements in freight demand for 2017 are coming to fruition. However, we are seeing a significant difference between the contract carriers, specifically those in more dedicated routes, and the spot market. Contract markets are showing limited load growth and weak pricing, but spot market indicators are telling a very different story. Data from Trans4Cast.com shows that spot market load activity in early June was up more than 50% compared to the same time last year. Importantly, truck capacity in the spot market is down during that same time. This has led to significant rate increases for spot moves, with the average rate up more than 10% on a year-over-year basis. We typically see spot markets move prior to the contract arena, so we would expect to see stronger contract pricing negotiations as we finish 2017 and head into 2018. The market is gaining strength, and conditions for carriers are showing significant improvements."
The Trucking Conditions Index tracks the changes representing six major conditions in the U.S. truck market. These conditions are: freight volumes, freight rates, fleet capacity, fleet bankruptcies, fuel price, and financing. The individual metrics are combined into a single index that tracks the market conditions that influence fleet behavior. A positive score represents good, optimistic conditions. A negative score represents bad, pessimistic conditions. A reading well below zero on the TCI warns of a problem, and readings high above zero spell opportunity. Readings near zero are consistent with a neutral operating environment. Double digit readings (both up or down) are warning signs for significant operating changes.