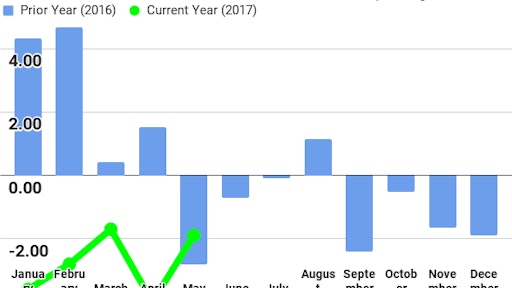 FTR's Shippers Conditions Index (SCI) for May improved from the previous month to a reading of -1.9. The benign reading is a reflection of only moderately favorable truck freight growth and continued weak contract pricing. Spot market pricing has been rising year-over-year (y/y) for several months. The Shippers Conditions Index is expected to have dynamic swings over the next year with shifts in overall capacity utilization and pricing taking effect as freight demand and regulations alter the landscape to differing degrees. Indicators are currently pointing to tighter capacity at the new year eventually easing in early 2019 as regulatory drag slows.
The SCI is a compilation of factors affecting the shippers transport environment. Any reading below zero indicates a less-than-ideal environment for shippers. Readings below -10 signal that conditions for shippers are approaching critical levels, based on available capacity and expected costs. 
Jonathan Starks, Chief Operating Officer at FTR, comments, "Shippers conditions continue to be mild. This is in part because the economy hasn't received the boost from the new Administration which many were hoping for. We are back at the status quo, with moderate growth in both the overall economy and truck freight. Contract pricing remains relatively favorable for shippers. It is only in the spot market, which continues to show strong results on both demand and rates, that we see the signs of changing conditions. We continue to expect implementation of ELDs, coupled with moderate increases in freight, to make for a more fraught environment for shippers. The closer we get to cresting 100% capacity utilization, the more worrisome the problem becomes."
The Shippers Conditions Index tracks the changes representing four major conditions in the U.S. full-load freight market. These conditions are: freight demand, freight rates, fleet capacity, and fuel price. The individual metrics are combined into a single index that tracks the market conditions that influence the shippers' freight transport environment. A positive score represents good, optimistic conditions. A negative score represents bad, pessimistic conditions. The index tells you the industry's health at a glance.