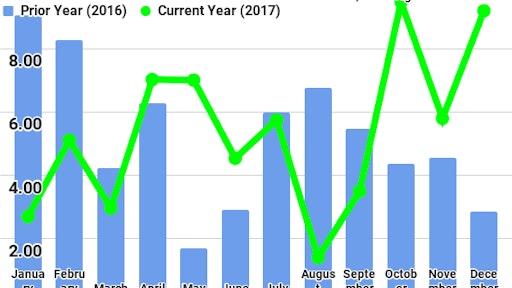 FTR's Trucking Conditions Index (TCI) for December rebounded after a one-month lull in November to a strong 9.2 reading, reflecting a full capacity environment driven by continued strength in freight demand. FTR expects the index to remain elevated and even increase further in 2018. Trucking capacity is essentially maxed out, resulting in the strongest freight rates in years.
Jonathan Starks, Chief Operating Officer at FTR, comments, "Fleets have been running very efficiently the past few years, with capacity utilization in the high 90% range. Couple this efficiency with increases in freight volumes and productivity hits due to weather and regulations, and it's no surprise to the industry that the end of 2017 and the beginning of 2018 have been good for carriers. We are seeing robust orders for trucks and trailers, serious recruitment drives, and the type of rate increases which make these expenditures feasible. In terms of the overall economy and freight demand, we are looking at strong potential for further upside possibilities for carriers."
The Trucking Conditions Index tracks the changes representing five major conditions in the U.S. truck market. These conditions are: freight volumes, freight rates, fleet capacity, fuel price, and financing. The individual metrics are combined into a single index that tracks the market conditions that influence fleet behavior. A positive score represents good, optimistic conditions. Conversely, a negative score represents bad, pessimistic conditions.