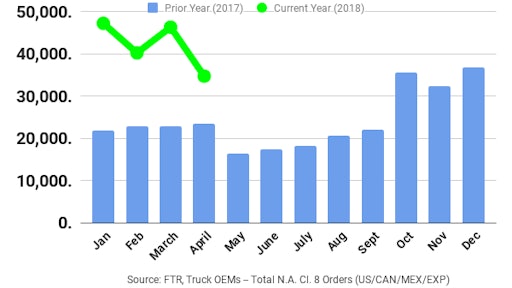 FTR reports preliminary North American Class 8 orders for April dropped 12,000 units from the stratospheric March numbers to 34,700 units for the month. While this was the largest drop month over month since 2011, it was completely expected and still up 50% versus April 2017. Demand for trucks remains at record levels and fleets are still attempting to add capacity as fast as possible in this market. North American Class 8 orders for the past 12 months have now totaled 368,000 units.
Jonathan Starks, Chief Intelligence Officer comments, "To put the April results into perspective, while we saw a nearly 12,000 unit drop from March, the figure is still above the average month for Q4 of last year. This remains a very elevated market.
"These order levels will continue to put pressure on the OEMs and suppliers to increase production and output. The market will stay red-hot into 2019. The question remains: how hot can they run?"