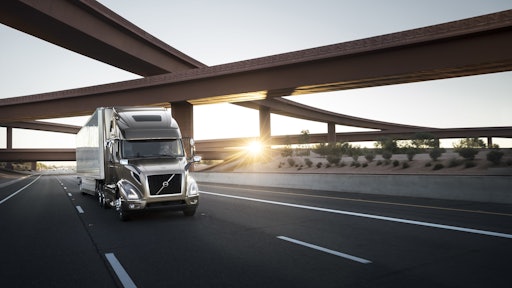 Volvo Trucks North America
Preliminary North American (NA) Class 8 orders in January reached a total of 17,700 units. This comes after four consecutive months of orders averaging 19,000 trucks, says FTR.
The January total is down 10% on a month-over-month (m/m) basis but up 12% y/y; FTR suggests fleets are ordering only the equipment they are sure they need in the short term.
FTR expects Class 8 orders to remain in this narrow range through the first quarter of the year. Class 8 orders for the past 12 months have now totaled 181,000 units.
Don Ake, Vice President Commercial Vehicles, comments, "The Class 8 market remains in equilibrium with orders well matched to production, stuck at close to replacement demand levels. Fleets remain profitable and are continuing to replace older units according to planned cycles. The smaller fleets are being more cautious because revenue is declining from the previous years.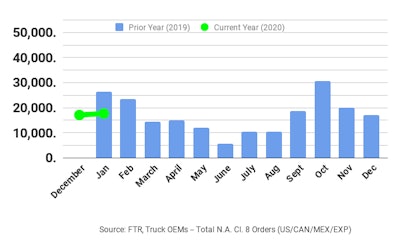 "The freight market is still sluggish, but it has plateaued at a high level. The market is pausing to take a breather after a couple of banner years and the equipment market is stagnant as a result. Even though the trade deals have reduced the amount of economic uncertainty, the upcoming election is restricting business investment both inside and outside the industry."
"Weak freight market and rate conditions, as well as the residual backlog cushion, continue to bedevil new Class 8 order activity," adds Kenny Vieth, ACT Research's President and Senior Analyst. He continues, "Notably, January's year-over-year result is the first positive Class 8 order comparison in 15 months, and while actual orders in January were below the Q4 average, they were more closely aligned on a seasonally adjusted basis."
Natural gas truck sales increase
U.S. and Canadian Class 8 Natural Gas truck retail sales for the first 11 months of 2019 gained 20% year-to-date over 2018, reports ACT Research. Full-year 2018 was down 15%, while 2017 was up 13%.
"Bucking the declining pattern of the past few years, year-to-date November 2019 sales appear to be gaining ground, with sales of natural-gas powered vehicles on an overall upward trajectory," says Vieth.
He continues,"That said and based on news released in the popular press, natural gas vehicle purchases were dominated by refuse fleets, as well as transit and school bus operators. Among truckers, the majority of incremental volume came from existing natural gas vehicle on-highway users replacing units or adding to their fleets."
Vieth adds, "Besides sales, the Alternative Fuels Quarterly analyzes the change in existing and planned alternative fuel/power infrastructure and equipment developments. We're seeing an overall increase in electric charging stations, but a continuing decline of total natural gas stations. Further analysis shows that the number of planned private heavy-duty CNG stations is growing."
He continues, "Regarding electric commercial vehicles, right now we're witnessing a tug-of-war between fuel-cell and battery technology investment in the Class 8 over-the-road market, and it's way too early for us to call a winner."
Medium-duty orders more resilient
ACT Research says that after the softness seen in late Q3/early Q4, medium-duty orders appear to have shown some resilience the past 2 months. In January, preliminary data show NA Classes 5-7 net orders at 18,500 units, down 9% from December and 20% y/y. Complete industry data for January, including final order numbers, will be published in mid-February.
"Seasonal adjustment provides an incremental bump to January's medium duty net orders, which rise to 18,700 units," says Steve Tam, ACT's Vice President.
He continues, "This means the Classes 5-7 backlog should slide by around 3,200 units, to 49,700 units, but we caution that the data never quite align month to month. The underlying build numbers are projected, so there will some variability in reported backlogs when final data is collected."
Editor's note: This article was originally published on Feb. 5 and updated Feb. 6 with additional information.
Companies in this article