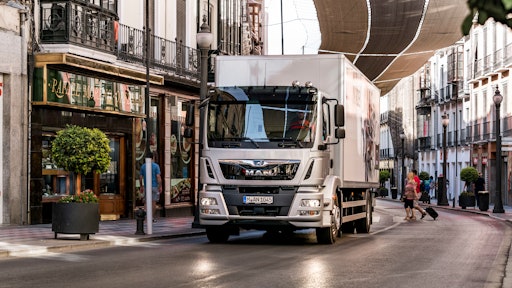 MAN Truck & Bus
In April 2020, commercial vehicle registrations in the European Union declined by 67.0%, as most of Europe was under lockdown for the entire month. The fallout of the COVID-19 pandemic affected all 27 EU markets and every vehicle segment.
Read more: Global Commercial Vehicle Production Expected to be Down 22% in 2020
Total new commercial vehicles
Spain (-87.8%), Italy (-85.5%) and France (-82.4%) saw the biggest losses in April, as they were also among the countries with the most restrictive containment measures in place.
Four months into the year, EU demand for new commercial vehicles contracted by 34.5%, largely due to the impact of the coronavirus on March and April results. The region's four major markets posted double-digit percentage drops so far this year: Spain (-46.6%), France (-41.6%), Italy (-41.4%) and Germany (-22.5%).
New light commercial vehicles (LCV) up to 3.5t
April results showed a sharp decline in registrations of light commercial vehicles across the EU. Demand for new vans fell by 69.6% to 46,264 units, or less than a third of the number of vans sold in April 2019. Double-digit declines were recorded in all EU markets last month, including the four major ones. Spain (-91.0%) and Italy (-89.9%) posted the biggest drops in van registrations.
From January to April, van demand in the European Union contracted by 35.1%. Light commercial vehicle registrations nearly halved in Spain (-49.1%), Italy (-44.5%) and France (-42.2%). Among the largest markets, Germany saw the least severe drop (-21.2%) so far this year.
New heavy commercial vehicles (HCV) of 16t and over
During the fourth month of 2020, new heavy truck registrations fell by 58.5%, marking the tenth consecutive month of decline in the EU. The Central European countries were severely hit (-71.2%) by lockdown measures last month – including Poland (-71.7%), which traditionally is one of the leading markets for this vehicle type in the region. Looking at the major Western European markets, France recorded the biggest contraction (-72.3%) in April.
So far in 2020, 64,456 heavy trucks were registered across the European Union, or 35.4% less than the year before. Demand declined by 39.8% in France, followed by Germany (-30.8%), Italy (-25.7%) and Spain (-23.6%).
New medium and heavy commercial vehicles (MHCV) over 3.5t
In April 2020, EU registrations of medium and heavy commercial vehicles showed a trend similar to that of the heavy-truck segment. Demand for trucks shrank by 54.8% compared to April 2019, counting 14,112 units in total. With the exception of Greece, each of the 27 EU markets posted significant losses last month: France (-72.5%), Italy (-61.7%), Spain (-49.9%) and Germany (-39.3%).
Four months into 2020, the European Union counted 79,954 registrations of new trucks, or 33.0% less than last year. France (-39.2%) saw the biggest percentage drop, followed by Germany (-27.3%), Italy (-26.0%) and Spain (-22.7%).
New medium and heavy buses & coaches (MHBC) over 3.5t
Last month, demand for new buses and coaches in the EU plummeted by 66.8% to 993 units registered. Except for Hungary, Sweden and Latvia, all markets in the region recorded strong declines in April, and Spain (-81.6%) in particular.
From January to April, bus and coach registrations contracted by 20.1%, with 8,551 vehicles sold across the European Union in total. Overall demand remained positive in Italy (+1.4%), while France (-8.6%) and Germany (-6.7%) posted modest drops. By contrast, however, new registrations fell by almost half in Spain (-48.0%) so far in 2020.