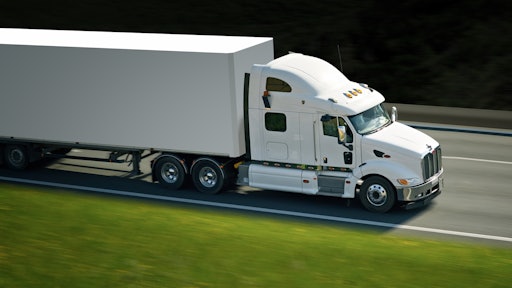 ©gilles lougassi – stock.adobe.com
*Editor's Note: This news was originally published on Dec. 10 and updated on Dec. 28 with additional information.
Preliminary data for North American Class 8 truck orders shows a drop yet again for November 2021. According to research firm FTR, orders were the lowest for the month of November since 1995.
FTR puts total orders at 9,500, a decline of 41% from October and an 82% drop on a year-over-year (y/y) basis. However, total Class 8 orders for the previous 12 months remains at a high level of 393,000 units.
Orders are down not because of decreased demand but ongoing uncertainty related to supply chains. OEMs are not certain they will be able to acquire all necessary parts, which has prompted some to limit order intake. Demand from fleets though is at very high levels says FTR in its press release reporting order figures for November.
Per the firm's press release, OEMs remain very reluctant to increase total backlogs with so much uncertainty about the supply chain. Component deliveries, especially semiconductors, have been unreliable since March. OEMs booked a huge number of orders a year ago, expecting to be able to build at full capacity throughout 2021, but parts and components shortages prevented them from completing many of these trucks.
Don Ake, Vice President of Commercial Vehicles for FTR, comments, "The low order numbers in November in no way are representative of total demand. The weak volumes are because OEMs are managing their backlogs very carefully. After overbooking almost every month in 2021, the OEMs are being extremely meticulous about scheduling commitments in 2022.
"This strategy will continue until the supply chain situation improves. Once the OEMs are confident they can obtain the necessary production inputs, they will boost production and enter more orders. Backlogs remain at sturdy levels, but OEMs don't want them much higher until they know their manufacturing capacity.
"Demand for new trucks is at record levels. There is tremendous pent-up demand generated in 2020 and 2021. Spot rates are at record levels, and contract rates are rising. Prices for used trucks are also at record highs. And when the manufacturing sector of the economy gets past the supply chain crisis, there will be even more freight to haul."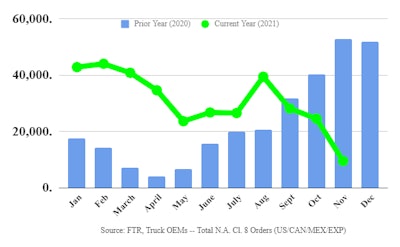 ACT Research has also released its preliminary truck order data for November 2021. It puts Class 8 orders at 9,800 units and orders for Classes 5-7 at 21,500; both figures are declines from the previous month and year-over-year totals.
"Long backlog lead times resulting from ongoing supply-side constraints continue to pressure new order activity," said Kenny Vieth, ACT's President and Senior Analyst, in the firm's press release announcing November order figures. "With backlogs stretching into late 2022 and still no clear visibility about the easing of the 'everything' shortage, modest November order results suggest the OEMs are continuing to take a more cautious approach to booking orders so as not to extend the cycle of customer expectations management.
"Importantly, we reiterate, with critical economic and industry demand drivers at, or near, record levels, industry strength is exhibited in long backlog lead times, rather than seasonally weak orders. Looking to October data, the last full month of data in hand, the Class 8 backlog was nearly 281,000 units and at October's build rate, the backlog-to-build ratio was 14.6 months, illustrating demand versus supply-side challenges."
Final order numbers will be available from both research firms in mid-December.
CV Industry Continues to Face Strong Demand and Capacity Constraints
ACT Research has also recently released its Commercial Vehicle Dealer Digest in which it reports industry capacity remains range-bound across a broad front of supply-chain constraints despite solid demand across the spectrum of forward-looking medium- and heavy-duty vehicle market indicators.
Regarding industry constraints, Vieth noted, "Ripples from pandemic-driven changes to economic relationships (WFH, PCE-goods) are still being felt in the form of constraints that are not localized and are beyond the CV industry's ability to drive solutions."
He added, "The explosion in demand for goods (semiconductors, steel) during a period of contagion has led to pandemic-driven failures in a globally reliant web of interrelated manufacturing supply chains. Scaling complex global networks when demand is booming during a period of supply constraints, globally, has proven inadequate to the task pandemic-to-date.
"Despite green lights, the everything shortage has left industry build rates stuck in neutral - on an incline. In October's round of ACT truck and trailer statistics, aggregated NA Classes 5-8 and U.S. trailer industry build rates slipped 2% from September. That decline continued a trend of incremental build rate contractions through 2021." He added, "It appears the industry is likely to begin 2022 with still unfinished 2021 units. If you have parts on all those 'built, but not built' units, some adjustment will be required to align your 2021-2022 output with reported and forecast data," he concluded.
Companies in this article