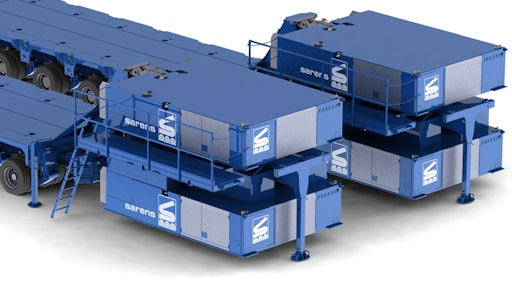 Sarens, the global leader in crane rental services, heavy lifting and engineered transport, has acquired self-propelled modular vehicles totaling EUR 63 million from KAMAG (TII Group) this year to realize land transportation and installation of pre-assembled units and racks along with related oversized equipment required for the US$ 36.8 billion Future Growth and Wellhead Pressure Management Project (FGP-WPMP) at Tengizchevroil (TCO). Among the equipment purchased by Sarens are KAMAG K25 Self-Propelled Modular Trailers with 1,060 hp power output, as well as the proven KAMAG K24 Modular Trailers, raising Sarens' self-propelled fleet to over 2,000 axle lines built by the TII Group.
At the Kazakhstan construction site, Sarens has been contracted to off-load, store, stack and transport the modules to their respective installation points. The scale of the project is huge which is reflected in the wide range of technical challenges. Wim Sarens, CEO of Sarens, states, "We have invested EUR 34 million in advance in the purchase of new equipment just to submit a tender for the project. We were sure that our project expertise and commitment would get us the job – and were proven right. The technical requirements for the equipment are extremely ambitious which is why we saw the TII Group as only possible strong partner due to its history of developing and manufacturing self-propelled vehicles."
On site, two huge combinations of the KAMAG K25 SP form the backbone of all transport operations: 92 axle lines driven by four 1,060 hp double Power Packs including K 25 SP 8 models with four driven axles and further 92 axle lines driven by four 530 hp Power Packs. "With the new double Power Packs, we can supply sufficient drive performance for the job; furthermore, Sarens will be able to re-integrate the equipment into its regular standard fleet afterwards by splitting them up into four single units," says Dr. Axel Müller, President TII Group.
The scale of the transport assignments to be undertaken by Sarens during the project underlines how important perfectly working transport equipment is for its success. During the duration of the project (2017-2020), Sarens anticipates deploying approximately 150 specialist personnel to the various locations of the project whilst also employing around 250 local professionals from the various sectors of logistics – all relying on the TII Groups expertise for a reliable workflow.