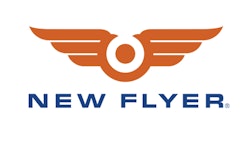 New Flyer of America Inc., the U.S. subsidiary of New Flyer Industries Inc. (NFI Group), the largest transit bus and motor coach manufacturer and parts distributor in North America, announces that its Anniston, AL, Vehicle Innovation Center (VIC), will open on October 12, 2017.
The 36-acre, five-building campus is now home to the new VIC, North America's first innovation lab dedicated to the advancement of bus and coach technology that connects people to places with a focus on the environment. The VIC will officially open on Thursday, October 12 with a grand opening ceremony that immediately follows the conclusion of the American Public Transportation Association's tri-annual EXPO being held in Atlanta, GA.
The VIC mandate includes research, development, and evolution of electric, autonomous and telematics technologies. The VIC was created by New Flyer in partnership with North America's leading motor coach OEM - Motor Coach Industries Inc. (MCI), also a subsidiary of the NFI Group, and delivers on the Company's commitment to investing in U.S. innovation, jobs, infrastructure, and manufacturing.
"Developing safe and sustainable bus technology that Americans can rely on is a key driver behind our investment to create the Vehicle Innovation Center," says Wayne Joseph, President of New Flyer of America. "By leveraging 50 years of experience in zero-emission bus manufacturing, we look forward to advancing our industry with transit solutions that help preserve the environment while contributing to the development of smart, connected cities."
NFI Group has already invested US $4.1 million to create the VIC, and expects to invest an additional USD $5 million in developing its electric-bus manufacturing program. The investment, which is in addition to an ongoing US $25 million expansion of the Anniston facility, was supported by the City of Anniston, State of Alabama, and Alabama Power (Southern Company).
Establishment of the VIC also includes development of an advisory group comprised of industry leaders that will be announced shortly. Through ongoing delivery of interactive experiences and collaboration with industry leaders, the VIC will feature a world-class manufacturing lab, exhibit space, and training areas to:
Explore and advance bus and coach technology through sustainable research and development, fresh innovation, progressive manufacturing, and bold thinking;
Foster dialogue through discussion, education, and training on the latest zero-emission and autonomous driving vehicle technologies;
Engage learning through current and interactive exhibits, simulation and hands-on experiences, and observations;
Generate energy and commitment to clean air quality, safety, and economic benefits for people, communities, and business; and
Harness the positive influence of collaboration, environmental stewardship, and social change to advance mobility solutions.
New Flyer, MCI and numerous industry partners have contributed interactive learning experiences that highlight electric and autonomous vehicle technologies. Partners of the VIC confirmed to date include: Siemens, ABB, XALT Energy, A123 Systems, Parker/Vansco, Valeo (Spheros), Vapor Bus International (WABTEC), Powerex Inc., Ballard Power Systems, Hydrogenics, ChargePoint, Thermo King, EMP, Center for Transportation and the Environment, CALSTART, and Alabama Power.
The Anniston, AL, campus, acquired by New Flyer of America in 2013, manufactures transit buses from high-strength steel frames and currently employs approximately 630 people. In 2015, New Flyer invested USD $20 million to transform the campus into a world-class manufacturing facility capable of producing New Flyer's Xcelsior heavy-duty buses. The 2017-2018 expansion will add approximately 76,000 sq. ft., increasing Anniston campus space to nearly 380,000 sq. ft.
NFI Group has over 50 years of experience in manufacturing zero-emission buses (ZEBs) and employs more American workers than any other transit bus manufacturer in North America.