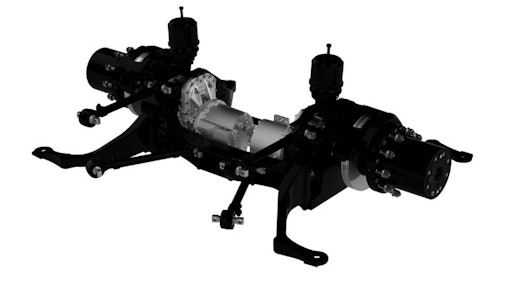 AxleTech International, the leading integrator of specialty electric axles (e-axles), announces its collaboration with Proterra, the leading innovator in heavy-duty electric transportation, to support the development and manufacturing of a new electric drivetrain system for zero-emissions buses.
Proterra designed and developed an innovative drivetrain system for its Catalyst E2 electric bus and worked with AxleTech for its engineering and manufacturing expertise, resulting in a drivetrain with optimal operating and packaging efficiency. The fully-integrated powertrain with new 2-speed gearboxes is a major contributing factor in achieving a 20% efficiency improvement over the previous generation powertrain. Proterra recently set the world record for the longest distance traveled by an electric vehicle on a single charge: 1,101.2 miles. Proterra is breaking new ground in the industry in its dedication to accelerate the adoption of heavy-duty electric vehicles.
"The partnership on Proterra's new drivetrain system has been one of the cornerstone programs for our e-axle solutions. The new drivetrain is just the beginning of our relationship with the Proterra team," says Jason Gies, Director of Business Development, Electric Powertrain Systems, at AxleTech.
AxleTech is committed to leading the electrification of heavy-duty vehicles by providing complete, integrated powertrain components for everything between the wheels, and delivering best-in-class packaging, performance, and efficiency.
AxleTech is exhibiting at the APTA Expo from October 9-11, 2017 in booth 2641. Proterra is displaying its Catalyst E2 electric bus in booth 9055.
Companies in this article