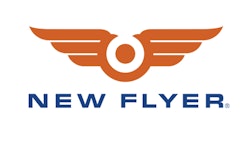 New Flyer Industries Canada ULC and New Flyer of America Inc. (collectively New Flyer), subsidiaries of NFI Group Inc. (NFI), the largest transit bus and motor coach manufacturer and parts distributor in North America, announces they have joined OppCharge, the global initiative to support interoperable charging systems for electric vehicles.
This commitment makes New Flyer the first licensee outside the Volvo Group to join OppCharge in America. It also continues New Flyer's active participation in and support of global charging standards for electric buses and coaches, for both enroute and depot charging options.
OppCharge interface is a solution driven by Volvo Bus Corporation and several other stakeholders, with the OppCharge Trademark owned by Volvo Bus Corporation.
In 2018, New Flyer joined CharIN to support industry charging standards for all electric vehicles, shortly after becoming the first bus manufacturer in the world to sign on to the Shared Mobility Principles for Livable Cities and also celebrating the Canadian Urban Transit Research and Innovation Consortium's (CUTRIC) launch of the Pan-Canadian Electric Bus Demonstration and Integration Trial – the world's first multi-manufacturer interoperability demonstration for fast-charge electric buses – of which New Flyer was a contributing member.
OppCharge was established to create a common interface for direct current (DC) high-power charging for medium and heavy-duty vehicles.
David Warren, New Flyer's Director of Sustainable Transportation, explains that joining OppCharge utilizes important global charging standards. "When bus manufacturers use a common charging interface, cities can share electric charging equipment across transit, refuse, and urban delivery vehicles. OppCharge provides interoperability that reduces capital investment in charging equipment, and allows city planners to implement cohesive infrastructure for heavy-duty electric vehicles – creating a foundation for long-term, multi-modal application."
The OppCharge system uses an overhead pantograph to transfer power to the bus, utilizing technology developed for train, light rail, and trolley-bus applications. It is available on New Flyer's zero-emission, battery-electric Xcelsior CHARGE bus in 35-, 40-, and 60-ft. models.
"OppCharge allows a transit bus to charge quickly and reliably at routine stops: for each hour of service, a bus typically requires only six minutes of charging time, allowing continuous high transit operations," states Chris Stoddart, Senior Vice President of Engineering and Service. "We are proud of our OppCharge commitment as it directly supports development of connected multi-modal transportation – known as smart mobility – to propel smart city growth. We are committed to advancing smart mobility in delivering safe, clean, efficient, and connected multimodal transportation in cities across North America."
OppCharge systems are currently operational in cities throughout Sweden, Germany, Belgium, Luxemburg, and Canada, with supporting international members including Siemens, Solaris, ABB, Nova Bus, and Volvo. New Flyer projects are underway or planned for cities in the United States including New York, Los Angeles, Portland, Salt Lake City, and Minneapolis.