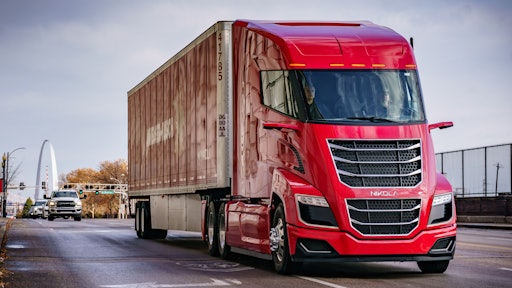 Nikola Motor Corp.
Nikola Corporation along with VectoIQ Acquisition Corp., a publicly-traded special purpose acquisition company, announces that the two companies have entered into a definitive agreement to create a company focused on the development of next generation smart transportation. Upon the closing of the transaction, the combined company will be named Nikola Corporation and is expected to remain NASDAQ-listed under the new ticker symbol "NKLA."
Company Highlights
Nikola has received more than $10 billion in pre-order leases to date. Its joint venture with European industrial vehicle manufacturer IVECO will help the company to ramp up production of its hydrogen-fueled vehicles. 
CNH Industrial N.V., parent company of IVECO, says it is supportive of the merger. 
"This is exciting news and another key milestone for our joint project to deliver zero emission heavy-duty trucks and hydrogen infrastructure through a unique business model. Nikola's NASDAQ listing gives further impetus to the ambitious targets we have set ourselves, to be at the forefront of scalable clean technology investments transforming our businesses and environment alike," says Hubertus Mühlhäuser, Chief Executive Officer, CNH Industrial. 
CNH Industrial entered into a strategic and exclusive Heavy-Duty Truck partnership with Nikola in September 2019 as the lead Series D investor, with a $250 million stake. IVECO and FPT Industrial, the commercial vehicle and powertrain brands of CNH Industrial, recently announced they will manufacture, through their European Joint Venture with Nikola Motor Company, the Nikola TRE, battery electric (BEV) heavy-duty truck, at IVECO's Ulm, Germany manufacturing site. Start of production is anticipated within the first half of 2021.
"Nikola's unswerving ambition to comprehensively transform our industry and its environmental footprint represents a great non-cyclical growth path for the business. Listing at NASDAQ, in order to raise funds in today's market environment, is clear recognition and support of the project's strategic direction," says Gerrit Marx, President Commercial and Speciality Vehicles, CNH Industrial.
Nikola's business model uniquely supplies both the truck and hydrogen fueling infrastructure, solving the fleets' concerns of where to refuel with green hydrogen at competitive pricing to diesel. The transaction proceeds will accelerate production, allow Nikola to break ground on its state-of-the-art manufacturing facility in Coolidge, AZ, and begin its hydrogen station infrastructure roll-out. The company expects to generate revenue by 2021 with the roll- out of its BEV truck, followed by FCEV truck sales starting in 2023 and the initial build out of hydrogen fueling stations to serve Nikola customers' fleets, such as Anheuser-Busch.
Trevor Milton, Founder and CEO of Nikola states, "We are on a roll. You couldn't ask for better news for the energy and tech industry. The world is transitioning to zero emission platforms and Nikola is the leader for heavy duty vehicles. We believe we have a differentiated business model built on economics, not government subsidies. We now need to double down and speed up the timelines and get to market. We couldn't be happier to have Steve Girsky join our board."
"In our two-year quest to find a partner that was a proven technology leader and focused on making a global difference, Nikola was the clear winner," says Stephen Girsky, CEO of VectoIQ and former Vice Chairman of General Motors Corporation. "Nikola's vision of a zero-emission future and ability to execute were key drivers in our decision."
Milton will serve as Executive Chairman of the combined company, continuing to lead the vision and forward-looking strategy. Prior to launching Nikola in 2015, Milton served as CEO of dHybrid Systems, a natural gas storage technology company.
Mark Russell, who has more than 20 years of experience building and managing companies in the manufacturing industry, will serve as the CEO of Nikola. He joined Nikola as President in 2019 and previously served as President and COO of Worthington Industries, a publicly-listed metals manufacturing company.
Kim Brady, currently the CFO at Nikola, will continue in that role post-close. Brady has more than 20 years of experience in private equity and investment banking. Prior to joining Nikola, Brady served as Senior Managing Director at Solic Capital, as well as CFO and General Manager at various companies in the manufacturing, business services and healthcare sectors.
Transaction Overview
The transaction reflects an implied enterprise value at closing of $3.3 billion. Cash proceeds raised in connection with the transaction, which will primarily be used to fund operations, support growth and for other general corporate purposes, will be funded through a combination of VectoIQ's cash in trust and a $525 million private placement of common stock at $10.00 per share led by institutional investors including Fidelity Management & Research Company, ValueAct Spring Fund and P. Schoenfeld Asset Management LP. Current Nikola stockholders will remain majority owners of the combined company at closing.
The boards of directors of both VectoIQ and Nikola have unanimously approved the proposed transaction. Completion of the proposed transaction is subject to approval of VectoIQ and Nikola stockholders and other customary closing conditions, including a registration statement being declared effective by the Securities and Exchange Commission, and is expected to be completed in the second quarter of 2020.