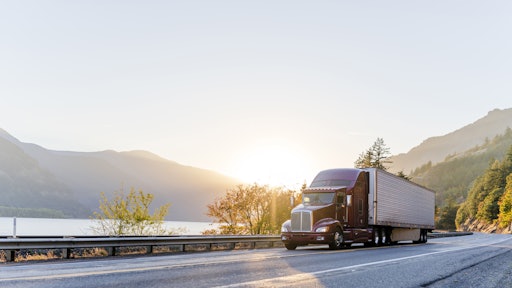 ©vit – stock.adobe.com
Preliminary North American (NA) Class 8 truck orders rose once again in October 2020. This was the fifth consecutive month of order increases.
Exact order totals vary depending on the source. Research firm FTR reports net Class 8 orders increased to 40,100 units, up 26% month-over-month (m/m) and up 83% y/y. FRT says this is the first 40,000+ unit month for Class 8 orders since October of 2018, adding to the already increased order activity from September.
ACT Research, however, reports preliminary Class 8 orders in October were at 38,900 units, up 27% from September and a 78% improvement from year-ago October. It also reports NA Classes 5-7 demand jumped to a 10-quarter high (March 2018) in October, to 29,300 units. That order volume represents an improvement of 6% from September and an 84% uptick compared to last year.
Both research firms will release final order data later in November.
Consumer demand and fleet confidence boost orders
FTR says fleets continue to order Class 8 trucks in large quantities for 2021 delivery. The freight markets are holding up surprisingly well after coming out of the lockdown stage of the pandemic. Consumer retail sales remain vibrant, necessitating frequent restocking which has kept freight rates elevated, capacity tight, and generating the need for more trucks.
READ MORE: Shift in Consumer Demand Bodes Well for North America Commercial Vehicle Demand in 2021
The hefty order volume in October indicates the market is beginning to return to its traditional order cycles. If the pace holds up, the fourth quarter of 2021 should look similar to the surge that took place in Q4 2014, although it won't be quite as strong.
Don Ake, Vice President of Commercial Vehicles for FTR, comments, "September was the turning point for the Class 8 market. Fleets became much more confident about future freight demand and began placing large orders to replace older units and for expansion purposes, as capacity tightened. In just a few months, the industry has gone from fear, to hope, to optimism. It appears the industry has sluffed off the uncertainties about the pandemic for now.
"There is still some pent-up demand from the OEM shutdowns in March and April, but there is also widespread momentum generated after the economic restart that is continuing to build. Industrial freight is still lagging somewhat. If manufacturing starts to rebound, sales go even higher."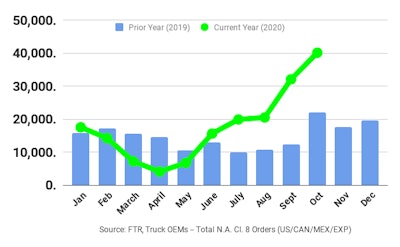 "Keeping in mind the freight backdrop of consumer spending on goods expanding and those for services contracting, preliminary October NA Classes 5-8 vehicles order data rose to 68,200 units. That volume represented a 17% gain from September and an 80% improvement compared to year-ago October," says Kenny Vieth, ACT's President and Senior Analyst. "October was the largest Classes 5-8 order tally in 26 months, and this month's orders marked a fifth consecutive positive year-over-year reading, after 18 consecutive months of negative comparisons."
Regarding the medium-duty market, Vieth comments, "There is a symbiotic relationship between heavy-duty freight rates and medium-duty demand, and clearly, the shift in consumer spending from experiences to goods has been beneficial for the providers of local trucking services, as e-commerce has grown by leaps and bounds during the pandemic."
Natural gas truck sales contract 15% year-to-date
According to ACT Research's Alternative Fuels Quarterly (AFQ) report, U.S. and Canadian Class 8 Natural Gas truck retail sales for the first 8 months of 2020 dropped 15% year-to-date over 2019.
"Sales of natural gas-powered vehicles as reported by the six major truck OEMs, who account for approximately 60% of the heavy-duty natural gas market, were mixed in the June to August time period, with all 3 months enjoying sequential gains," says Steve Tam, Vice President at ACT Research. "As a result, sales continue to whittle away at the year-to-date deficit."
Tam adds, "Looking at the most recent month [August], sales rose 26% month-over-month, handily besting the year-ago period. Hampered by soft sales from February through June, though, the market has been playing catch-up most of the year."
Companies in this article