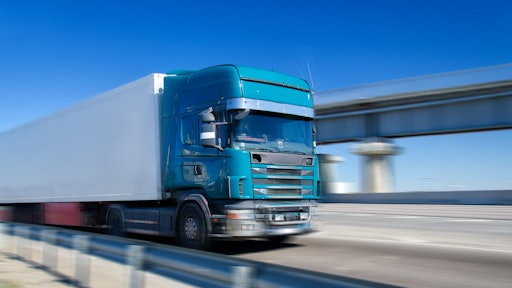 ©M-Production – stock.adobe.com
The European Automobile Manufacturers Association (ACEA) announces total EU commercial vehicle registrations rose 12.4% in June 2021. Registrations reached 185,573 units, with all vehicle segments contributing to the month's positive figures.
According to ACEA, the Central European countries drove much of the demand with an increase of 43.4%. Germany and Italy were the only countries within the four key Western European markets which saw a rise in registrations of 28.5% and 5.3% respectively.
For the first half of 2021, registrations reached 1 million units for an increase of 36.9%. ACEA says this reflects the large gains made from March through May in the commercial vehicle market. Double-digit increases were achieved in each of the four key markets: 
Italy a- 53.7%
Spain - 38.$%
France - 36.4%
Germany - 21.7%. 
Following is ACEA's June registration figures by vehicle weight class. 
New light commercial vehicles (LCV) up to 3.5t
Registrations of new vans across the EU grew again by 9.6% in June, although at a more modest rate than previous months. Germany saw the highest growth of the region's four largest markets (+28.2%), followed by Italy (+1.5%). On the other hand, registrations fell in France (-10.0%) and Spain (-4.9%) last month.
From January to June, sales of new light commercial vehicles in the EU went up by 38.1% to 856,926 units, benefiting from the positive performance of recent months. This trend is reflected at a country level, with the four biggest markets in the region all recording double-digit growth: Italy (+55.8%), Spain (+39.9%), France (+38.7%) and Germany (+23.0%).
New heavy commercial vehicles (HCV) of 16t and over
In June 2021, demand for new heavy trucks continued to expand (+37.1%), totalling 21,828 units registered across the European Union. Three of the four major markets posted solid gains last month – Italy (+48.8%), Germany (+30.8%) and Spain (+26.8%) – while sales in France slightly declined (-2.1%) compared to June 2020.
Six months into 2021, new heavy trucks sold in the EU went up by 39.3% to reach 128,333 units. All the major markets consolidated their positive results during this period: Italy (+51.7%), Spain (+42.9%), Germany (+23.2%) and France (+19.2%).
New medium and heavy commercial vehicles (MHCV) over 3.5t
In June, the truck segment also had a very positive performance, with demand up 33.1% to 26,512 units registered in the EU. With the exception of France (-2.3%), all major markets largely contributed to last month's growth: Italy (+41.7%), Germany (+29.9%) and Spain (+17.7%).
Throughout the first half of 2021, the EU market for medium and heavy commercial vehicles expanded by 34.1%, with 154,387 units sold in total. Italy saw the highest percentage growth of the EU major markets (+47.6%), followed by Spain (+32.5%), France (+20.3%) and Germany (+19.4%).
New medium and heavy buses & coaches (MHBC) over 3.5t
June registrations of new buses and coaches in the European Union were 9.4% higher than in the same month last year. Germany (+24.0%), Italy (+23.2%) and Spain (+18.1%) all recorded significant gains last month, while France was the only major market to post a decline (-14.1%).
So far in 2021, the EU bus and coach segment increased by 3.2% to 12,887 units. On the back of June's positive performance, declines for the first half of the year were less significant in both Spain (-13.5%) and Germany (-0.04%) compared to the January-May period. On the other hand, demand remained positive in Italy and France (+6.0% and +4.7% respectively).