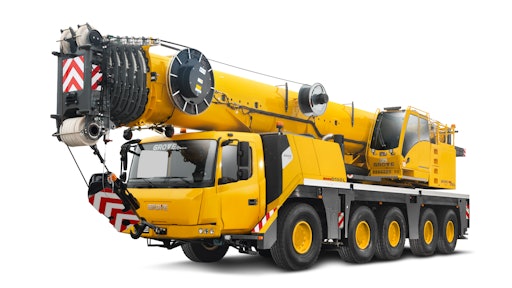 For the first time in North America, Manitowoc will feature the GMK5150L and GMK5250L at a tradeshow. The two new all-terrain cranes will be a major highlight for CONEXPO 2017 and are sure to draw a crowd to the company's booth.
Both the GMK5150L and GMK5250L possess groundbreaking technologies that aim to generate a higher return on investment for Manitowoc customers. Notably, a single Tier 4 Final engine powers each crane, a concept pioneered by Grove on its highly successful Grove GMK6400. The engine drives both the carrier and superstructure, reducing overall weight and lowering fuel consumption, which leads to lower operating and maintenance costs.
"The GMK5150L and GMK5250L reflect years of technological advancements in Grove all-terrain crane design and engineering," says Andreas Cremer, Manitowoc's Global Product Director for All-Terrain Cranes. "It's in keeping with The Manitowoc Way that these cranes are designed with customers and their companies in mind. These are workhorse cranes that provide measureable benefits over previous generations of all-terrain cranes."
Shared advancements
The "L" designation for the GMK5150L and GMK5250L denotes the fact that they are both "long boom" models that provide more reach for a variety of applications, such as tower crane assembly, narrow lifts in congested cities or reaching over buildings to complete HVAC projects, among many other examples.
The GMK5250L has an impressive 70 m (230 ft.) boom while the GMK5150L boasts a 60 m (197 ft.) boom. (Grove also offers the GMK5150 with a shorter 51 m [167 ft.] boom and slightly increased load charts.) MEGAFORM shaping and Twin-Lock pinning ensure these hydraulic booms are among the most stable on the market.
The GMK5150L and GMK5250L also feature Manitowoc's Crane Control System (CCS). The standardized CCS is a user-friendly interface that Manitowoc has introduced on all new all-terrain crane models, as well as crawler cranes, rough-terrain cranes and tower cranes. This makes it easier for fleets to operate and maintain a standardized set of crane controls across several crane types. Its Boom Configurator Mode is especially useful, making it quick and easy for operators to select optimum boom positions for lifts.
GMK5150L
The five-axle Grove GMK5150L has a 150 t (175 USt) capacity, making it the leader in its class. Its class-leading characteristics are retained both when configured with its maximum counterweight for maximum lifting capacity or for partial counterweight configurations. Due to the very low gross vehicle mass for a crane this size, more counterweight can be carried while still meeting the criteria for various road regulations in North America.
Maximum counterweight for the crane is 45 t (50 USt), which allows for an overall load chart increase of up to 20% over the previous generation GMK5165-2. With a capacity of 11.8 t (13.0 USt) with its boom fully extended, the GMK5150L is ideal for tower crane assembly or other applications where strength at height is needed.
The GMK5150L is part of Grove's latest generation of all-terrain cranes that provide various counterweight configurations to sustain capacity without giving up mobility. Specifically in North America, gross vehicle and axle weights are critical, and the allowable weights vary significantly both within and among states, as well as the season. It is important to have multiple counterweight splits and removable parts to meet the diverse roading regulations in the region.
These cranes can carry up to 7.9 t (8.7 USt) of counterweight in the boom over front travel configuration—if roading regulations permit—enabling the crane to achieve a Gross Vehicle Weight of less than 12 t (13 USt) per axle. In addition, models in this range are equipped with attaching points that accommodate a boom dolly for areas that require travel in the trailing boom configuration.
Boosting the crane's overall reach is an 18 m (59 ft.) bi-fold swing-away jib, which can be extended with an 8 m (26 ft.) boom extension and an 8 m (26 ft.) jib extension for a total jib length of 34 m (112 ft.). The jib also offers an improved offset of 50 degrees.
GMK5250L
The 250 t (300 USt) capacity GMK5250L was the first mobile crane to feature the VIAB turbo clutch module, which eliminates fluid overheating and clutch burning while simultaneously delivering improved fuel economy. The VIAB module also enables class-leading maneuverability and driver comfort by working in tandem with the crane's integrated retarder, resulting in wear-free braking and starting.
With its 12 t (13.2 USt) per axle configuration, and dimensions suited to global roading requirements, the compact GMK5250L offers excellent roadability. Special attention has been given to the appropriate axle-group spacing, and specifically, the fact that this exceeds 2.4 m (8 ft.)—a strict requirement for roading mobile cranes in North America.
Other features on the GMK5250L include interchangeable counterweight slabs (which can be shared among the GMK5180-1, GMK5200-1 and GMK6300L); a self-rigging auxiliary hoist (which is interchangeable with cranes in the GMK line from the GMK5180-1 up to GMK6300L); and a stronger reach and load chart than many competing five-axle cranes. The crane's boom benefits from laser-hybrid welding technology, which increases welding precision and creates booms that both weigh less and perform better.
The GMK5250L has a 21 m (69 ft.) hydraulic swing-away jib that can be extended with either an 8 m (26 ft.) boom extension, two 8 m (26 ft.) jib inserts, or a combination of both for a total possible jib length of 37 m (121 ft.). For optimum usage, the full jib can also be operated while the crane is working with its full boom length extended. Another benefit of the jib is its ability to offer increased offset of up to 50 degrees—plus there is an optional, integrated heavy duty jib available.
"Customer return on investment has been the key driver in the development of these ground-breaking cranes," says Cremer. "Although still relatively new, both these highly versatile machines have developed excellent reputations in the market, making CONEXPO 2017 an ideal opportunity to show the industry why they have become such global hits. With their high utilization rates and excellent reliability, the GMK5150L and GMK5250L will continue to underline Grove's leadership in the all-terrain crane business."