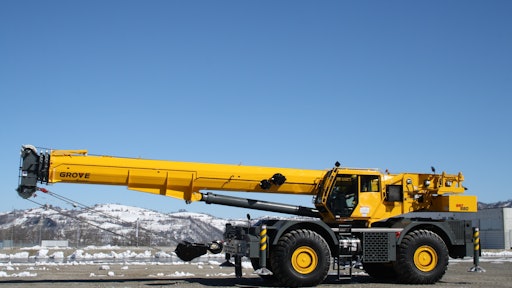 Manitowoc will feature one of its newest rough-terrain cranes at its booth for CONEXPO 2017: the Grove GRT880. This crane has several class-leading capabilities and Manitowoc's Crane Control System (CCS). It will be shown in the company's booth; Gold Lot stand G3348.
Paul Cutchall, Product Manager for Rough-Terrain Cranes at Manitowoc, says the GRT880 marked a generational update in Grove's rough-terrain crane range, possessing a number of features that make it a new class leader that is able to deliver a better return on investment to owners.
"This new Grove model reflects everything we've learned in the last decade of crane design," he says. "For example, customers will find the GRT880 more reliable than previous generations of cranes, thanks in part to the advances brought by our Product Verification Center (PVC). Each component has undergone extensive component validation and prototype testing and with that knowledge, we've been able to improve our rough-terrain cranes from the ground up."
The 80 t GRT880 features a 41 m (135 ft.) boom that is lighter than other cranes in its class. Customers will find this boom especially useful for the mining sector, equipment maintenance, and infrastructure projects. With a full complement of boom extension and insert options, the crane also has an outstanding reach of 60.9 m (200.0 ft.) and maximum tip height of 68.0 m (223.0 ft.). The boom is lighter and longer than its predecessor, but has the ability to lift heavier loads across its load chart.
With increased capacity at mid-range and maximum radii, the GRT880 is more versatile than competitors' cranes—it boasts up to 16% greater capacity at full radius, 13% greater capacity in mid-range applications and 27% greater capacity at close radii. With offsettable boom and fly extensions, the crane enables customers to lift heavier loads to greater heights, helping companies compete for—and win—bids for projects they may not have been able to previously.
A new boom extension stowage system for the GRT880's manual, offsettable jib option decreases erection and stowage time by 60% when compared with previous generation Grove cranes. This enables operators to set up and disassemble the cranes in less time, saving money and increasing return on investment.
The GRT880 also has best-in-class hoist line pulls at 7,883 kg (17,380 lbs.) on both the main and the auxiliary hoists. The stronger pull results in fewer parts of line being needed to lift loads, which will lead to increased productivity on the job site and faster customer payback.
"The GRT880 will surely increase ROI for customers with the versatility of its design and strong load charts," Cutchall says. "Also its hydraulic and crane control systems are designed with efficiency and improved fuel economy in mind. Combined with the heightened reliability improvements brought by our PVC, this new crane will enable customers to be more efficient and decrease maintenance and operating costs."
Crane Control System (CCS)
The GRT880 also features Manitowoc's Crane Control System (CCS). The standardized CCS is a user-friendly interface that Manitowoc is introducing on all new rough-terrain crane models, as well as crawler cranes, all-terrain cranes and tower cranes. An updated full-vision cab tilts to 20 degrees and also features a new ergonomic control arrangement including a tilting/telescoping steering column, electronic joysticks, and a jog dial for simple CCS menu navigation.
The intuitive nature of CCS enables operators to more quickly set up their cranes and get to work.  Additionally, CCS offers the new ECO mode to improve fuel efficiency and decrease wear and tear on the powertrain and hydraulic systems.