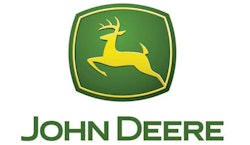 In 2016, Deere & Company employees increased by more than 50% the number of volunteer hours they recorded in service to community organizations worldwide, totaling nearly 158,000 hours in the year compared to approximately 104,500 in 2015. During the year, Deere launched its "Serving Our Communities" initiative in which employees at Deere units around the world organized volunteer projects to benefit their local cities and towns. This initiative alone accounted for more than 17,000 volunteer hours.
"Serving our Communities" involved 5,300 employees at 40 Deere locations. Projects included packaging meals and collecting cans of food for local foodbanks, planting gardens at local schools, packing backpacks with school supplies for at-risk children, and helping farmers in developing countries be more productive. Employees at other locations built houses through Habitat for Humanity, renovated schools, and picked up litter along a beach.
Deere's citizenship efforts include a robust global volunteer program that includes salary and wage employees as well as grants from the John Deere Foundation and corporate contributions made mostly in communities where John Deere has company facilities.
"Our employees take an active role in helping develop the communities where they live and work," says Sam Allen, Chairman and Chief Executive Officer. "Through these volunteer efforts and our philanthropic contributions, we can positively impact the living standards of people across the globe."
In total, Deere and its Foundation provided grants and contributions totaling more than $31 million in fiscal year 2016, says Mara Sovey Downing, Director, Global Brand Management and Corporate Citizenship, and President of the John Deere Foundation.
Downing says the company's citizenship activities helped improve the lives of more than 18 million people across the globe. Overall, Deere's citizenship efforts focus on three important areas - long-term solutions for world hunger, education, and community development. Deere remains committed to investing annually in civic initiatives and has established a goal to reach one million volunteer hours recorded by employees.
In 2016, John Deere was named as one of America's Top 100 Corporate Citizens by Forbes magazine and the nonprofit organization Just Capital.
Companies in this article