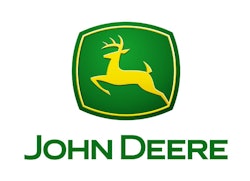 Deere & Company is one of the World's Most Ethical Companies as determined by the Ethisphere Institute, which has announced its annual ranking of companies that achieve highly ethical business practices.
Deere has earned the recognition for all 12 years the Institute has completed the research and is one of only a dozen companies to have done so. In 2018, 135 honorees were recognized, spanning 23 countries and 57 industries.
"Our record of success is anchored by an unwavering commitment to ethical behavior and doing the right things in the right way," says Sam Allen, Chairman and Chief Executive Officer at Deere & Company. "We have a responsibility to uphold the standards of honor and integrity that have defined Deere over its history."
The Ethisphere Institute assesses company performance across five categories:
Ethics and compliance
Corporate citizenship and responsibility
Culture of ethics
Governance and leadership
Innovation and reputation
"Global corporations operating with a common rule of law are now society's strongest force to improve the human condition. The World's Most Ethical Companies in particular continued to show exemplary leadership," says Timothy Erblich, Ethisphere's Chief Executive Officer.