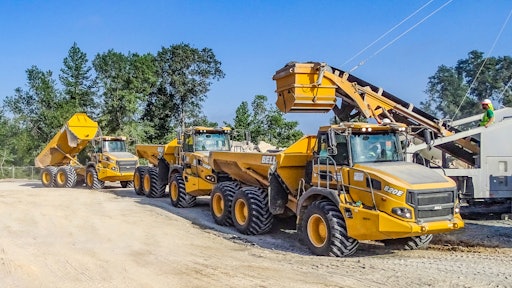 International ADT specialist Bell Equipment will use the platform of bauma 2019, the largest construction equipment exposition in the world, to display both new and proven models of its leading E-series truck range (Hall B5.148). Focal points will include the conversion to new emission regulations, model specific improvements and the group's worldwide commitment to pro-active customer support strategies. 
Newcomers and Long sellers
In addition to the world premiere of its latest "crossover" model, the Bell B45E 4x4, the company's 6x6 range, comprising seven models with payloads from 18.0 to 45.4 tonnes, will be represented by the Bell B20E LGP (Low Ground Pressure) – a new addition to many market regions – and the proven Bell B50E.
First launched 2 years ago in the United Kingdom, the Bell B20E LGP is based on the small B20 trucks, which have been successful in the domestic African markets for more than three decades. These 6x4 trucks with a payload of 18.0 tonnes are used in medium sized earth moving and civil engineering projects as well as a base for numerous customized solutions, most notably in forestry and agriculture. This base machine has been tweaked for worldwide distribution in extremely muddy or soft, sandy underfoot conditions. The Bell B20E LGP has three driven axles and extra wide 800/45 R30.5 tires (with 20.5R25 available as an option). The power of the Mercedes-Benz/MTU (OM 924LA/4R 1000) in-line four-cylinder engine has been raised to 170 kW, an Allison six-speed automatic transmission provides an integrated retarder while the front and center axles feature encapsulated wet brakes. All other equipment meets the E-series' high standards, including the spacious Bell cab, standard on-board-weighing (OBW) and numerous driving and loading assistants.
There has been impressive market acceptance in the UK, where the Bell B20E LGP has emerged as a highly specialized rental machine in addition to Bell Equipment's more traditional customers. This was followed by a successful launch in the U.S. market. More recently, demand from mainland Europe – particularly Scandinavian countries where the B20E with 20.5 tires is road legal – has resulted in Bell Equipment relocating production of the B20E LGP to its European assembly plant in Eisenach, Germany in autumn 2018.
Seventeen years since its premiere in 2002, the Bell B50E remains the only 6x6 50 tonner in the market. "The introduction of our own and other 60t Articulated Dump Trucks definitely raised awareness of larger ADTs and the result is increased customer interest in the B50E," comments Tristan du Pisanie, Bell Equipment ADT Marketing Manager. "With its superior power-to-weight ratio and the lowest ground pressure available in the 50-60 ton class, it remains the ultimate solution for high production and economical earthmoving in rough terrain."
This applies to both heavy earthmoving in large infrastructure projects as well as mining or quarrying in extreme weather conditions or difficult underfoot conditions. "Crucial in earthmoving is choosing the right equipment for the job to ensure availability of all machines, and their productivity, even under widely varying conditions. As early as the project evaluation phase, many customers recognize that the B50E can be smoothly integrated into existing hauling schemes in terms of volume, payload and necessary track maintenance. In direct 'cost per ton' analyses, the higher payload gives it an immediate advantage over 40-ton ADTs. This is combined with low fuel consumption, a traditional strength of Bell ADTs to give a great result for our customers. The demand in the mining sector continues unabated and where very soft underfoot conditions mean that our B60E 4x4 is less suited, we're able to offer a reliable and economical solution with the proven B50E."
Updates and Upgrades
In Munich, Bell Equipment will update the market on the transition of its truck technology from emission level EU Stage IV/Tier 4 Final to meet the new EU Stage V regulations that became effective at the beginning of 2019. This impacts engines from long-time Bell partners Mercedes-Benz/MTU. These engines complied with EU Stage IV in combining integrated cooled exhaust gas recirculation (EGR) and selective catalytic reduction (SCR) adding urea (AdBlue). The new aftertreatment process now adds a diesel oxidation catalyst (DOC) and a diesel particulate filter (DPF). The technology was developed by Mercedes-Benz in the OM93x/47x series for the introduction of the Euro 6 on-road truck emission standard (2014) and optimized by MTU in the corresponding 1000-1500 non-road engine series. All exhaust aftertreatment components, including the diesel particulate filter, are installed in a compact one-box-solution behind the cab.
"As an OEM, both Mercedes Benz and MTU kept us informed of the development as well as listened to our needs. This means that we could already factor in the present concept during the design of our E-series. This has ensured a reliable and, above all, economic upgrade," says du Pisanie. "The power characteristics of the engines have remained unchanged while on the fuel consumption side, Mercedes Benz have tested a 3% improvement. Ease of maintenance is ensured by a comprehensive integration between the Mercedes Benz / MTU and Bell electronics as well as by good access for all serviceable items." 
The other big change occurs on the high-volume model Bell B30E, which includes the introduction of the new Allison 3400 XFE transmission (6F/1R). "The transmission has closer and more evenly spaced gear ratios to ensure the better use of power and torque even at low engine speeds for further fuel savings. The transmission retarder will be replaced by the automatic retarder function of the wet brakes, which features automatic downhill speed control found on the larger Bell trucks as well as the automatic Hill Hold feature. With Hill Hold the brakes are automatically applied if the operator takes his foot off the accelerator pedal while driving up an incline to prevent the truck from rolling backwards. When the accelerator is activated again the brakes are released when there is enough engine torque to pull away smoothly. Every customer that I have shown the Hill Hold feature to, gets out of the truck amazed," says du Pisanie. Separate circuits for brake and axle oils, with efficient cooling and filtering, allow the use of the optimal oil for each function, ensuring higher lubrication/braking performance with less maintenance.
Global customer support
In Munich, customers from around the world will be informed about the latest developments in Bell Equipment's aftermarket services. This includes new features of the satellite-based fleet management system Fleetm@tic (which celebrates its 10th anniversary), financing programs and new repair and maintenance offerings that can be tailor-made for each type of application and customer profile.
Bell Equipment will also focus on its latest investments in its worldwide parts logistics. The new European Logistics Center (ELC) opened in Alsfeld, Germany in September 2017 and the establishment of its American counterpart, the American Logistics Centre (ALC) in North Carolina in mid-2018 form important steps to support Bell Equipment's fast-growing Northern Hemisphere markets. Both new bases improve regional customer and dealer support through best parts availability while also optimizing worldwide procurement in collaboration with the Bell Global Logistics Center (GLC) in Johannesburg, South Africa.
The next step will be the opening of the 12,000 m² factory extension at the group's European ADT assembly facility in Kindel-Eisenach in mid-2019. This will cover bin fabrication and bonnet assembly and will optimize transport logistics and general production efficiencies to further reduce lead times and allow greater flexibility regarding customer needs.