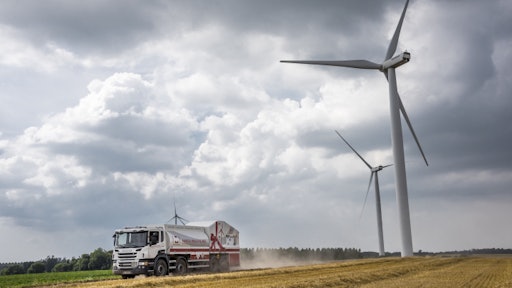 Scania AB
A groundbreaking customized Scania P 410 truck designed for wind turbine oil changes has been conceived and developed by Maser Engineering, a French company. The new truck reduces maintenance time by 400%. 
Guillaume Allaire, Business Manager at Maser Engineering explains, "I wanted to develop equipment that was capable of carrying out oil changes quickly and easily."
Unique customised Scania P 410
The four-axle Scania P 410 with its three steered axles is unique not only in France, but even in Europe.
Two years of research and design were needed to bring about this 'Swiss Army knife': a Scania weighing 19 tonnes at no load, including a 12,000-L tank separated into three compartments (for used and new oils), a mechanical compartment equipped with a 600-L heating tank, a power generator and a 120-m double hose reel.
"With this truck, an oil change can be done four times faster. Products have absolutely no contact with air. In short, operations are made safe and the risk of pollution is limited," Allaire says.
Scania AB

Scania – an attentive partner
Maser Engineering hopes to gain a foothold in the French market with the new truck which is assembled according to the short-circuit principle.
"All participants, from Scania to the coachbuilder, are based in Pays de la Loire, in western France. We are involved in renewables and green energy, so sustainable construction makes sense to us," says Allaire.
Scania's quick and positive response with this chassis, which is sized to meet the needs of the activity made all the difference to Maser Engineering.
"When we approached them, we felt that the project elicited their interest because of the technical sophistication of the truck, and the environmental focus of our work," he recalls.
Wind turbine oil change process
Catchline of the double-hose hoist system: one hose for retrieval of used oil, the other for transfer of new oil. The reel is installed on the back of the Scania. The hose measures 120 m long.
In the nacelle, attachment of the hoses to the gearbox of the wind turbine to start the oil change.
Collection of 500 L of used oil in the Scania's first tank with its 6,000-L capacity.
Heating of the new oil to 60 C in the heating tank, so that it can be propelled to a height of 80 m using the hydraulic pump.