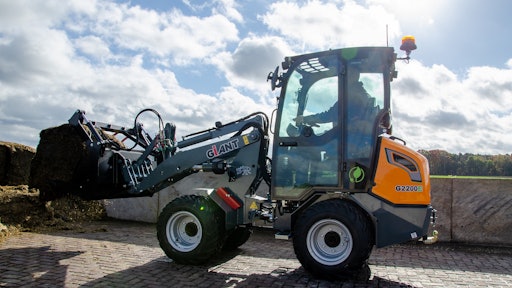 TOBROCO-GIANT
After an eventful year with highs and lows, 2021 will be a year in which TOBROCO-GIANT celebrates its 25th anniversary. What started in 1996 as a company in ornamental fencing and injectors has grown through the further development and production of GIANT machines into an international company with three branches and the ambition to grow considerably in the coming years to 9,500 machines by 2025.
Director and owner Toine Brock: "This milestone could not have been achieved without the commitment and involvement of employees, dealers and suppliers. And of course from our customers all over the world who use our machines every day and are convinced of the quality of GIANT machines and attachments. This gives us the confidence that we can continue to grow in the coming years and be busy with what I love to do; develop and build machines that meet all the wishes and requirements of customers worldwide."
From injectors to wheel loaders
It all started in 1996 with the foundation of TOBROCO, which stands for Toine Brock Construction. Injectors were developed and built under this name. These were well received and over the years also exported to other European countries until early 2001 when the foot-and-mouth disease broke out and production came to a complete standstill.
Because Toine is a real entrepreneur he discussed a solution with his employees immediately. Because of his agricultural background, Toine already knew that the companies in his area could make good use of a multifunctional tool carrier to lighten the work and perform it more efficiently. The idea for the GIANT wheel loader was born.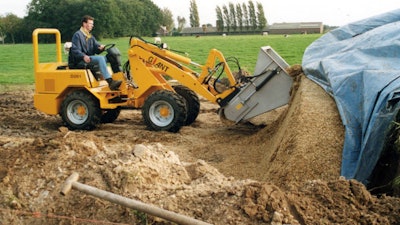 "The name GIANT was chosen for an obvious reason. It is the abbreviation for Gigantic Ant and a reference to the animals with their unique capabilities and the possibility to lift up to 50 times their own weight. A feature that is reflected in all GIANT machines because they are known for being able to lift a lot in relation to their own weight," says Brock.
The loader was further perfected in the first year with feedback from customers. Soon after, it was not only local companies that bought a machine, but there was already interest from abroad. The current importer for Denmark and Sweden, Brdr Sørensen, has been there from the start and Firma Beel as importer for Belgium followed soon after.
Rapid growth abroad
In 2014, TOBROCO-GIANT built the 10,000th machine. The company needed 13 years to reach this milestone. The next 10,000 machines needed less time because at  the end of 2018 the counter was already at 20,000. Last year the 25,000th machine was produced. These milestones have everything to do with the rapid growth abroad. Frans van Asseldonk, Manager Sales & Marketing: "The number of countries where GIANT machines are sold has risen to 61 and in those countries TOBROCO-GIANT works together with more than 750 dealers. In Africa, the first steps were recently taken with a new dealer in South Africa."
"In 2016, an important step was the opening of its own sales and service office in America. More and more companies in the US and Canada are opting for compact wheel loaders because of the comfort, ease of operation, fuel savings and the fact that the machines hardly damage the ground surface. Due to the popularity of the machines, the dealer network in North America has grown to 95 within a few years and this number will continue to grow in the coming years," explains Van Asseldonk.
Oisterwijk as a base
In 2003, the possibilities in Haaren turned out to be insufficient and a building was bought on the industrial estate of Oisterwijk in order to be able to grow further. The growth came about because the portfolio of machines was further expanded with different types of wheel loaders, but also the introduction of the first GIANT telescopic loader. For example, the range of models in 2005 already consisted of 20 units. In addition, there was increasing interest in machines from other sectors such as construction, pavers and gardeners.
In order to keep up with growth and meet the demand for machines, construction began in 2009 on a new factory with two floors and a surface area of ​​20,000 m2. A year later, the new building was completed and the move to this new production facility was a fact. Not a moment too soon as a telehandler is added to the program and the sales numbers increased from 750 machines in 2009 to almost 1,500 units in 2013.
Until 2013, a lot of welding and construction work was outsourced to various suppliers in the interior and abroad. For more efficiency and to guarantee quality, it was decided that year to do everything in-house in a new factory in Hungary. There, 40 employees manufactured the attachments and frames, after which they were transported to Oisterwijk. 
Doubling of business space
With a target of 9,500 machines by 2025, additional operating space is required to increase production and maintain essential quality. That is why TOBROCO-GIANT has already invested € 18 million from 2018 in the expansion of the production facility, a high-bay warehouse and construction of new production lines. The new warehouse was put into use in September and the latest production lines will be finalized in early 2021. The production facility was expanded by 8,000 m2, bringing the total to 30,000 m2. 
Brock explains: "The recent expansion will not be enough to be able to continue the growth of the company in the coming years. That is why the company surface will be doubled in the coming years. The construction of a new hall will start immediately in January. It will be 6,000 m2 in size and the assembly of frames will take place here. There is also space on the roof to park cars. In addition, a plan is ready for the construction of a new storage hall of 2,500 m2 for 2022.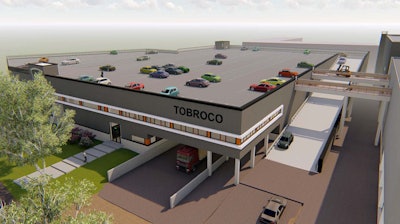 "At the same time, a multifunctional building will be opened in 2021 that will serve as a showroom and experience center, but also for the construction of specials, development of new machines and training location. A site of 25,000 m2 was purchased for this in 2020. After a thorough renovation, customers can test their new machines here from the end of 2021, but dealers can also follow various training courses here. If customers have special wishes when it comes to machine options or attachments, they will be built here in the future. In this way, it remains possible to deliver custom work for customers who have specific requirements for a GIANT machine or attachment.
"Not only in the Netherlands, but also in Hungary, we will work hard on expansion in the coming years. Ten kilometers from the current factory, an area of ​​18,000 m2 has been purchased in Füzesabony. A new industrial hall with offices of 8,000 m2 will be completed here in 2022. The remaining space makes it possible to expand further in the future if necessary." 
These expansions are good for employment in both the Netherlands and Hungary. In Oisterwijk, TOBROCO-GIANT has grown into the largest employer with 320 employees from 15 different countries. The number is expected to grow to 420 employees by the end of the year. In Hungary, the company started with 40 employees in 2013 and this number has also grown over the years. At the moment, 100 employees work here every day. 
"Focus on continuing to innovate" 
Another spearhead of TOBROCO-GIANT is the broad portfolio of machines and attachments. At the moment it consists of 30 different models from 750-6,000 kg, from 20-76 hp. And when it comes to attachments, there is a wide choice with a range of over 200 different implements. Brock: "The number of different types will increase significantly in the future with the introduction of new models. In addition, the range of electric models will be further expanded in the coming years to offer customers both a diesel variant and an electric alternative of the same model. 
"When developing a new model, the demand from the market is explicitly considered. The latest model that will be introduced in the short term is the G2300 (X-TRA) HD. This model was developed because there is a demand for a model between the existing G2200 HD+ and G2500 HD. The machines are equipped with a 1,500 cc, Kubota engine, with 4 cylinders and high torque. The hydrostatic four-wheel drive with automotive steering and 8-tonne planetary axles (Heavy Duty version) give the machines a pulling force of 23,000 N. The G2300 HD has an operating weight of 2,300 kg and a tipping load of 1,595 kg. The G2300 X-TRA HD has an operating weight of 2,350 kg and a tipping load of 2,260 kg. Both models will go into production in February of this year.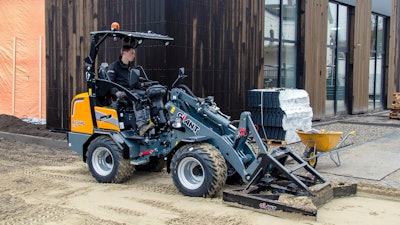 "Furthermore, TOBROCO-GIANT will introduce five new TELE models in 2021. Now the range consists of a TELE variant of the smallest model (D204SW TELE) and the two largest models (G3500 TELE and G5000 TELE). With the introduction of the G1500 TELE, G2200 TELE, G2300 TELE, G2500 TELE and G2700 TELE, a complete line of telescopic loaders will be available.
"With regard to the electric models, the existing range is expanded with the G2500E and G2500E X-TRA. Both machines operate in a class higher than the G2200E (X-TRA) with an operating weight of 2,500 kg. This makes the machines extremely suitable for transporting on a trailer and offers a lot of flexibility for the user. In 2020, a start was also made on developing machines in the 1.5 and 3.5 ton class. 
"With Jungheinrich, TOBROCO-GIANT has found a global and reliable partner with expertise when it comes to developing electrical machines. This knowledge is shared with the R&D department of TOBROCO-GIANT, which is a department t of 30 engineers and which is focused on developing a machine in-house using only the best components. The move to a new and modern location will ensure that the innovations will continue unabated. This is not only about developing new machines and attachments, but also optimizing existing models."