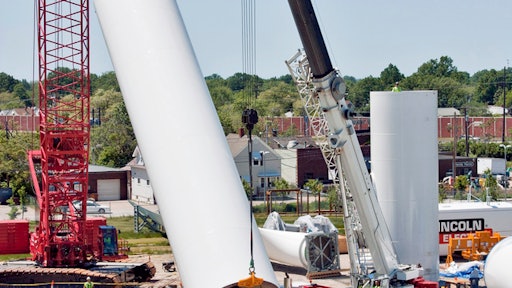 Two Manitowoc cranes installed a wind tower in Cleveland, OH, over a four-day period earlier this year. The 443 ft turbine is located outside the headquarters of Lincoln Electric, a world leader in arc welding and a long-term supplier to the wind tower industry.
The turbine is one of the largest urban wind towers in North America and will provide up to 10% of the energy used at Lincoln Electric's manufacturing plant, saving an estimated $500,000 a year in energy costs.
A Manitowoc 16000 crawler crane and a Grove GMK5120B all-terrain crane were chosen to erect the 2.5 MW turbine. Both units belong to All Erection & Crane Rental Corp., the largest lifting equipment rental and sales company in North America.
The first task on the project was off-loading and erecting the four tower sections from their delivery trucks. These sections were lifted and then walked into position by the Model 16000, with the GMK5120B providing tailing support. Each section weighed approximately 70 USt.
With the tower sections installed, the cranes then worked together to install the 99 USt nacelle and drive train, which was handled in two lifts. Finally, three rotor blades were bolted together at ground level before the entire 64 USt assembly was carefully lifted into place.
Following completion of the $5.9 million project, Lincoln Electric staged an inauguration ceremony to celebrate its success.
George Blankenship, president of Lincoln Electric North America, says the wind turbine symbolizes some important values at the company, so it was important assembly work was conducted to the highest standards.
"This project has been three years in the making and embodies our company's commitment to renewables and the wind tower industry," he says. "It was therefore essential that the tower was erected efficiently and to the highest standards of quality. The cranes on this job performed admirably and everything ran smoothly and on time."
A third crane, a 30 USt RT530E-2 from Grove's rough-terrain range, was also used in the early stages of construction for land preparation.
Manitowoc's 16000 is a 440 USt capacity crawler crane, and on the Lincoln Electric project, All Erection & Crane Rental Corp., rigged the crane with 157 ft of main boom and 177 ft of luffing jib. The crane is able to accommodate a maximum of 432 ft of main boom. All Erection sent the crane to site on 22 trucks.
The versatile Grove GMK5120B is a 120 USt capacity all-terrain crane with a 167 ft boom that is mounted on a five-axle carrier.