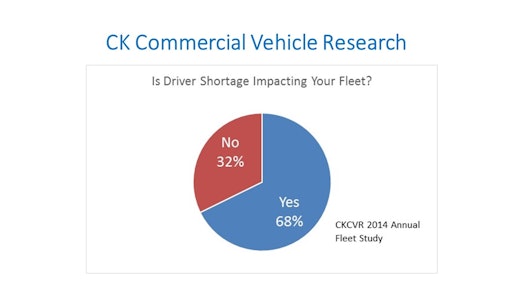 CK Commercial Vehicle Research has completed its 2014 Annual Fleet Study. Sixty-six representatives from small, medium and large for-hire, private and government fleets operating 40,000+ Class 8 vehicles responded to this year's 20-question survey covering: Planned 2015 truck and trailer purchases for replacement and added capacity, brand choices, driver shortage impact, equipment specifications, new technologies, maintenance and replacement parts, information sources and challenges for 2015.

Key points from this year's study include:
A slight decline in equipment purchase plans for 2015 versus what was planned for 2014. Higher percentage of deliveries expected in first half of year.
Driver shortage is the key issue facing trucking fleets impacting their ability or willingness to add capacity
New technologies that maximize safety and/or fuel efficiency; or improve driver potential, recruitment, and retention are being added to new equipment
In-house maintenance still the preference although some changes are occurring
Original equipment truck manufacturers playing an increasing role as a resource for fleets – for information, outsourced service and replacement part purchases.