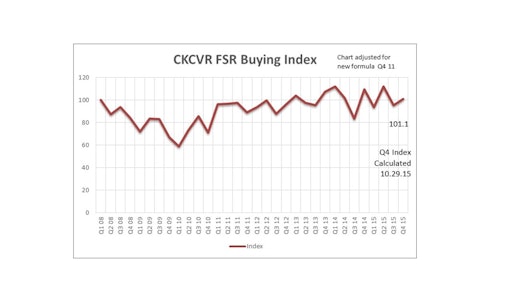 The quarterly Fleet Sentiment survey conducted in early October by CK Commercial Vehicle Research (CKCVR) indicates that fleet equipment ordering activity could be similar in 2016 to what it has been for 2015.
A majority (76%) expect their heavy-duty truck orders to match what was purchased in 2015, with a few more even planning an increase. A smaller percent (63%) said the same about their trailer orders. The survey showed that planned ordering activity during Q4 2015 will start the ball rolling for 2016 especially from the larger fleets reporting.  Weighted volume average for expected truck orders from this group in the October to December time frame is improved both quarter-over-quarter and year-over-year. Expected trailer orders during the period were improved quarter-over-quarter but fell short of the difficult comparison to last year.  

Driver shortage issues continue to plague most fleets reporting to the CKCVR survey, especially with their ability to grow to take advantage of good freight demand. Many are simply not adding to their fleet because they don't have enough drivers to fill current seats let alone additional seats.  

Equipment demand for 2016 for this group can change if the economy falters. Chris Kemmer from CK Commercial Vehicle Research explains, "While a majority of the fleets reporting to us saw their business as good or even excellent, any fall off in freight or work demand will certainly cause them to re-think their 2016 plans. They have been upgrading their equipment at a pretty high level over the last two to three years so I expect they could take a pause in new equipment purchases without taking a significant hit to maintenance costs associated with older vehicles. But if the economy stays fairly strong, they will likely continue to purchase new trucks and trailers at a similar level as we've seen this year."