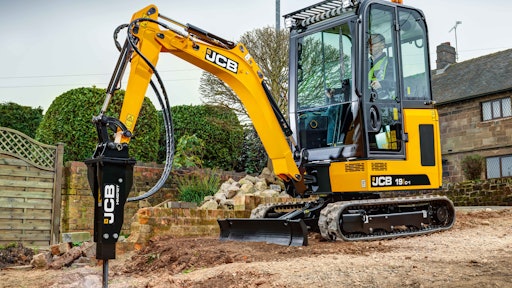 JCB
A recent report from Fact.MR projects the demand for compact excavators will witness sluggish traction in the upcoming years. The report has assessed that during the forecast period, 2017-2026, the global compact excavators market will expand at a compound annual growth rate (CAGR) of 2.7%. By the end of 2026, $173.6 billion worth of compact excavators will be sold across the globe.
Excavation is among the key industrial processes across multiple sectors, from mining to construction and aerospace. With the global population growing, developed and developing countries are seeing spaces become more confined, thus carrying out excavation processes is becoming more challenging.
Compact excavators have emerged as the ideal solution for carrying out digging processes in confined spaces. As such, manufacturers of industrial vehicles are shifting towards creating compact vehicles.
However, the report notes there are application limitations for compact excavators owing to their operating capacities which will impede their sales in the near future.
Key report findings
Through 2026, the Asia-Pacific excluding Japan (APEJ) region is expected to dominate the global compact excavators market. It will account for more than 40% of the share of global sales. This is due to a high level of construction activity in the APEJ region as countries look to add more infrastructure and other areas of development.
Europe's compact excavators market, on the other hand, is poised to expand at a CAGR of 2.8% during the forecast period, becoming the second highest growth market.
In 2017 and beyond, a majority of compact excavators sold in the global market will be tail swing. The demand for zero tail swing compact excavators, on the other hand, will gain traction by registering the fastest growth in terms of volume.
By the end of 2026, barely 18 billion compact excavators sold in the global market will be powered by electric motors. With shortcomings of electric compact excavators in deep excavations, diesel compact excavators will remain predominant in the global market over the forecast period.
On the basis of operating weight, the 4,000-10,000 lb. segment is likely to leading the global compact excavator market.
Fact.MR's report says that by the end of the forecast period, construction will emerge as the largest end-use vertical, followed by mining, and forestry and agriculture.