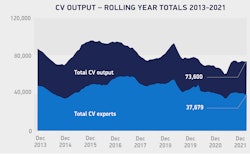 Society of Motor Manufacturers and Traders
The Society of Motor Manufacturers and Traders (SMMT) has released its latest data related to commercial vehicle and engine production in the United Kingdom (UK). Home delivery has benefited the commercial vehicle market, leading to improved numbers for December and full-year 2021. Engine production, however, has struggled with the same supply chain and pandemic challenges as many other industries which lead to declines in 2021 for this segment.
Engine manufacturing down in 2021
SMMT reports engine manufacturing in the UK was down 10.8% in 2021, reaching just over 1.6 million units. The trade association says production for the domestic market was down 3.6% and down 15.4% for overseas markets. December production fell by more than a quarter, capping off a difficult year for the engine industry.
"2021 represented another challenging year for UK engine manufacturers with the effects of the Covid-19 pandemic continuing to disrupt output. The global shortage of semiconductors, in particular, hit car and van production and in turn demand for engines. There is hope that the sector can recover in 2022 as vehicle volumes rise again, however, action is needed to combat rising energy costs, supply chain shortages, while long-term we must continue to upskill our manufacturing workforce to produce electrified powertrains," said Mike Hawes, SMMT Chief Executive.
Commercial vehicle production recovers
Production for commercial vehicles in the UK grew 11.3% in 2021 reports SMMT following what it said was the worst year (2020) for the industry. A total of 73,600 vans, trucks, taxis, buses and coaches were manufactured during the year.
While the semiconductor and other supply chain issues posed challenging for manufacturers, many were able to secure necessary supplies and keep their operations going. SMMT says growth for the commercial vehicle sector was largely driven by an increase in sales of rigid 2 axle trucks and vans due to increased demand for home deliveries which were brought about by lockdown measures.
December production increased 3.2%, helping end the year on a positive note.
SMMT notes that while 2021 was more positive than 2020, it was still 14.4%—or 12,356 units—below the 5-year pre-pandemic average.
Production for the domestic market increased 27.3% during 2021, while that for overseas customers was relatively stable dipping just 0.6%.
"After the worst year in a lifetime, the growth in production for commercial vehicles during 2021 is extremely welcome. Despite a plethora of challenges, manufacturers have remained operational throughout the year. The sector isn't out of the woods yet, however, and challenges remain heading into 2022. Support will be necessary to ensure the supply chain can overcome ongoing semiconductor-related shortages as well as measures to ensure energy costs do not rise to an extent that it significantly undermines competitiveness," said Hawes.