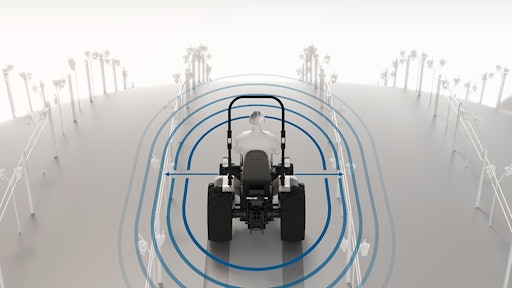 DLG (German Agricultural Society)
*Editor's note: This article was originally published in January 2022 and updated February 8 with new information.
The 2022 edition of Agritechnica was to include a Systems & Components Trophy - Engineers' Choice award to honor innovations for components used in agricultural equipment applications. Despite the trade show no longer taking place, its digital component is still available which was the site of an awards ceremony for this award on February 8, 2022.
A total of 20 technologies were nominated for the award. Nominated technologies were evaluated on their practical significance to the industry, benefits they provide, improvements to workload and safety offered, as well as environmental impact and energy consumption.
As DLG explains in its press release announcing honorees for the award, systems and components play a critical role in the function and performance of agricultural equipment. Because of this, DLG felt it was pertinent to honor innovations in this area as well as overall machine designs.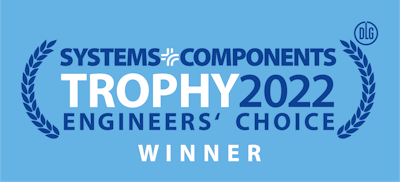 This was the second time DLG has given the award; winners were selected from a jury of development engineers from the agricultural machinery industry.
Winners of the 2022 award
Three technologies were selected as winners of the award. Per DLG's press release announcing the winners, systems and components play a key role in the development of innovative agricultural machinery. And with the Systems & Components Trophy - Engineers' Choice, DLG says it is able to recognize components or systems with novel or significantly improved concepts that can make a significant contribution to the development and production of agricultural machinery and other off-highway machinery. Following are the winners with descriptions provided by DLG.
DDP096 Digital displacement pump from Danfoss Power Solutions ApS
The digital displacement pump creates hydraulic fluid power with both high efficiency and controllability using solenoid valves to actively control each cylinder on a shaft-turn-by-shaft-turn basis, a new method. This offers a fast response rate and reduces losses by up to 90% compared to conventional pumps. A new feature this brings is that groups of cylinders can be brought out to the endplate and controlled independently, thus producing a multi-service pump within a compact package. Up to three separately controllable outputs from one pump body are possible with the current product.
READ MORE: Danfoss Bringing New Digital Displacement Pumps to Market in 2021
"We are excited and honored to win this prestigious award," said Alasdair Robertson, director of product portfolio and marketing for Digital Displacement, Danfoss Power solutions, who accepted the award during the virtual ceremony. "The fact that industry development engineers recognized our product as an outstanding innovation makes it even more significant and highlights the advantages Digital Displacement can bring to OEMs in the agriculture sector."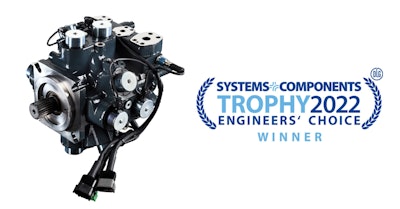 Bosch Off-Highway Surround Sensing from Robert
Bosch

GmbH

To measure and maintain a determined distance between an off-highway vehicle including implement and any obstacle, radar and ultrasonic sensors can work together. For collision warning and avoidance, the system is useful e.g. for a sprayer boom or while harvesting grapes as it ensures that the harvester maintains the optimal distance to the vines. Thanks to the object localization, the system not only warns the driver, but also delivers exact distance and position of other objects e.g. in parallel driving mode. The radar sensors can determine the position and direction of up to 40 static or moving objects simultaneously.

Suitable for harsh environments, the system complies with IP69K and with any E/E-architecture of mobile machinery. Also Bosch camera systems can be combined or used individually with the previously mentioned systems for environment display and sensor visualization.
Faster ABC (Always the Best Connection) from FASTER S.p.A.
This new electronic system guides the tractor dealer or the operator to create and save an intended pairing between one tractor and one implement, an advantage when dealing with farm fleets consisting of multiple hydraulic implements to be connected with multiple tractors.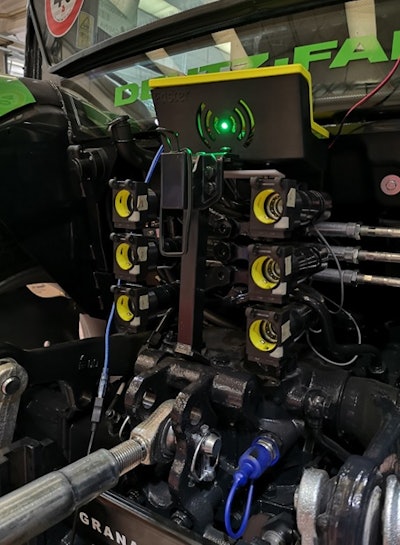 The benefits are improved fuel efficiency, predictive maintenance information, and contribution to safety through minimization of operator error. The hydraulic quick release coupling functions as an "intelligent node" recognizing the intended pairing. Once created by an expert user, the saved hose connection is suitable for repeated use. A unique RFID tag on each hose identifies the implement while an ECU, which transfers the information to the tractor, automatically adjusts the level of hydraulic power. Because the system detects the proper insertion of the coupling, it can also alert the operator of any accidental coupling disconnection during machine operation.
The 2022 nominees
Twenty total technologies were nominated for the Systems & Components Trophy - Engineers' Choice award which covered a broad range of components and systems that could be utilized in agricultural equipment. Following are the remaining list of nominees and descriptions of the products which were in contention for the award as stated in DLG's press release announcing the nominees.
ACTIA Multimedia Digital Cab from
ACTIA

Automotive

ACTIA Multimedia Digital Cab is a rugged android-based Central ECU that can be connected to one or more full digital displays, safety ECUs and telematics. This multi-communication "Control Tower" gives access to state of the art infotainment and entertainment like radio and video but also connectivity and machine control functions. It gives the tractor or combine driver the same comfort, ease of use and safety as if he/she was in a car.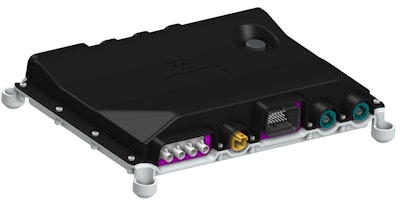 b-ISOBUS IO Gateway from b-plus mobile control GmbH
Enabling smaller implements to connect into the ISOBUS easily and quickly, the innovation allows the visualization and control of 11 inputs and outputs for digital and analog signals directly at the tractor Virtual Terminal (VT). The complete configuration can be done at the VT with no configuration PC needed.
Carbide cultivator blade from BOEHLERIT GmbH & Co KG
A further development of the carbide hoe blade for rougher working conditions on seedbed combinations, the carbide cultivator blade promises a consistent working quality, longer tool lifetime thereby savings on wear part costs. In order to better withstand the higher working speed at both greater working depths and impacts, a reinforcement with an integrated carbide tip is welded onto the cultivator blade. The beaver tooth effect and the constant working width ensure consistent quality of work while the saw tooth design effectively controls even stubborn weed. Herbicide use, the number of operations and fuel consumption can also be reduced. The stronger carbide segments maintain the wear ratio between the carbide inserts and the steel share and, with 60-80 tines on a 6-m seedbed combination, the system ensures reduced downtime for wear part changes.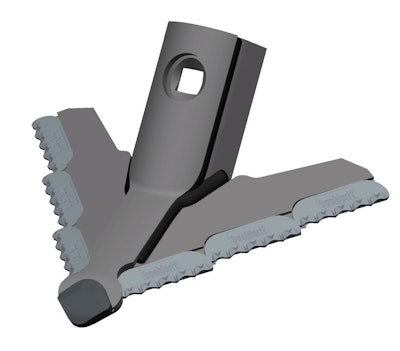 Buco Rubber Notched Wheel from Buco S.A.
The rubber notched trapezoidal closing wheel has been designed for no till and direct seeding.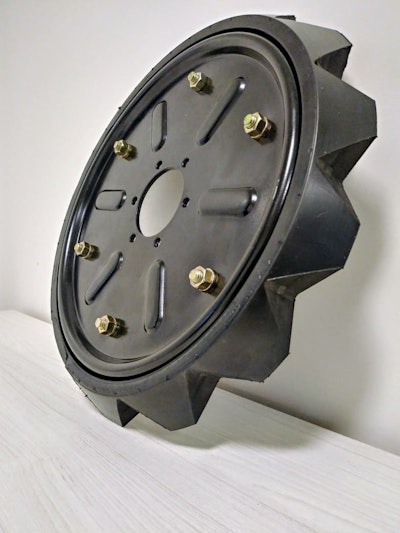 The self cleaning wheel reduces the amount of mud and stubble sticking to the seed unit, ensuring an efficient wheel rotation and seeding. The notched profile eliminates the need for a notched steel metal disc conventionally used with closing wheels in direct seeding. The new rubber notched wheel has an easy assembly system and can achieve different working angles. The new development ensures precision seeding while reducing costs.
Buco Seed Tubes with internal Fins from Buco S.A.
Most seed tubes drop seeds evenly if the tubes remain almost vertical in operation. However, as you drive up or down slopes, seeds often hang in the corrugations of the seed tubes. Often these seeds fall out in clumps when the seed tube straightens back out or when enough vibration shakes the seeds loose, resulting in inconsistent seed placement down the rows. BUCO corrugated seed tubes are made from neoprenne and provide excellent flexibility. BUCO seed tubes have internal folds above each corrugation, so as the seed tube stretches out, the folds direct the seeds away from the corrugations and help eliminate any seeds being held in the seed tube.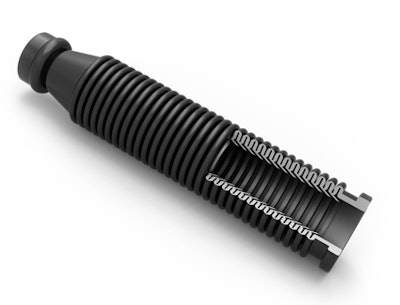 Low noise gear pump shhark Z17 from
Danfoss

Power Solutions ApS

The new compact gear pump has been designed to offer both lower noise and vibration compared to conventional technologies, resulting in longer life of other components both in the hydraulic line and pump itself, which reduces the need to replace either part. The overall result is cost saving, energy efficiency and environmental benefits. Reducing the noise by up to 10 dB(A), the high performance of the pump eliminates the need for any end of line noise reduction measures, providing cost and space claim savings.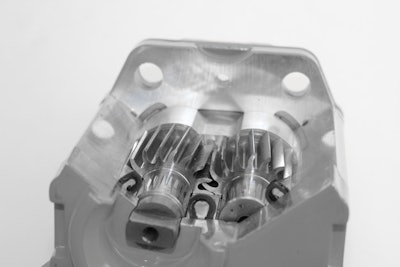 XM100 and Autonomous Control Library from
Danfoss

Power Solutions ApS

The solution consists of high processing power hardware and a software library that provides the electronics and software applications required for the functions on autonomous mobile machines such as navigation, positioning, perception, obstacle avoidance and sensor integration. The library provides key software algorithms for advanced sensor fusion and autonomous navigation, and is built into pre-programmed function blocks saving development time.

READ MORE: New Danfoss Machine Controller Eases Autonomous Vehicle Development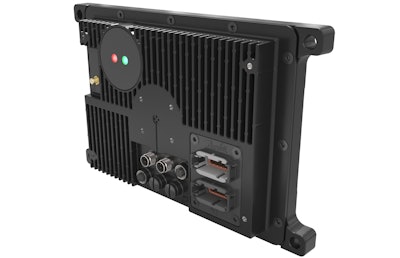 Nexofox – Agrarbot System Kit from Dunkermotoren GmbH
With a range of ready-to-order rotary and linear drives, this new system meets the demand for automated electric vehicles requiring flexible actuator solutions that fits easily into any design. For the electrification, the motor employs next to the DC-motor itself a directly build in drive. This not only allows the control the motor it also offers the capability to directly program the necessary logic for an electric vehicle on the motor including communication to systems like the navigation.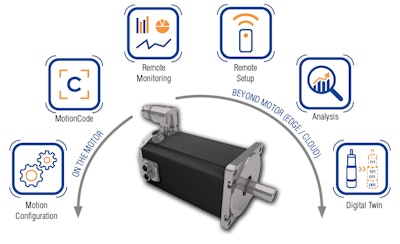 TPV 2500 from HANSA – TMP srl
Featuring an 11-piston cylinder block and the swash plate on hydrostatic support, the new axial piston pump for hydrostatic transmission offers high pump efficiency resulting in fuel reductions of up to 10%. The mechanical contact between swash plate and pump body is eliminated, reducing noise by 3dB. The system features a displacement ranging from 22-32 cm3/n with a maximum pressure of 450 bar, and an innovative oil distribution means the pump can reach 98% overall efficiency. The TPV 2500 is applicable with diesel, hybrid and electric engine.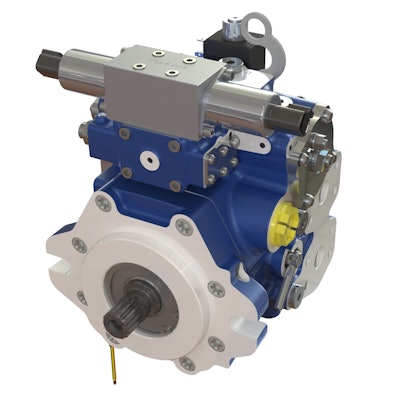 LEDayFlex III from Hella Fahrzeugteile Austria GmbH
Combining functionality, design and safety into one product, this newly developed lighting system suitable for the off-highway sector incorporates three energy efficient LED light functions in one module: daytime running light, position and direction indicator light, all employing the innovative EdgeLight technology that provides a clear signature and homogeneous appearance without visible LED spots. With the choice of three and five modules for each side of the off highway vehicle, the modular system offers design freedom.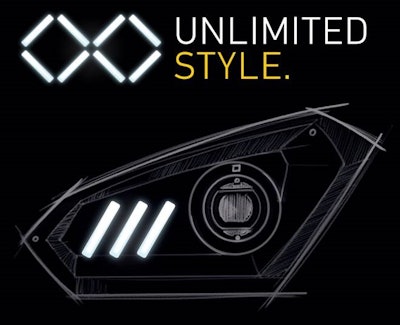 INO Operation control from INO Brezice d.o.o.
Maintenance costs today are often caused by the late detection of defects as modern equipment is quieter, making it challenging for the operator to react using his senses. This system supports early detection by measuring a series of parameters of the machine during work: engine speed, vibrations, temperature, GPS location and working hours. The benefits are not only lifetime extension and predictive maintenance but also documentation and early detection of technical issues. Easy to install and battery-driven, the device both transmits the real time data via Bluetooth to the smart phone and stores it for analysis and as a history record, useful in case of warranty claims or as documentation that the work was carried out.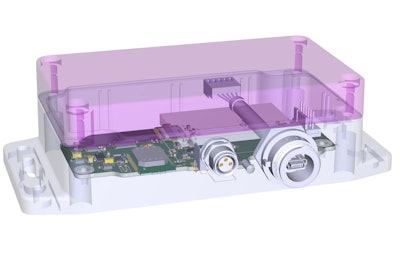 KSD Series from Lombardini S.r.l. (Kohler Engines)
Through the precise control of fuel injection across all engine speeds, the compact engine range offers even higher performance than larger displacement engines and fits all new and existing machines. The electronic control also allows the engine to maintain high performance in low atmospheric pressure conditions. The engine is designed to offer efficient fluid consumption and reduced downtime and maintenance, resulting in high operational performance.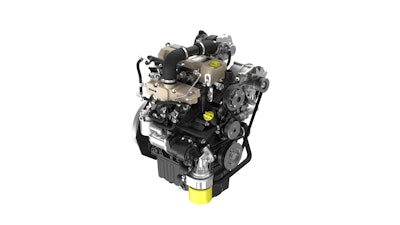 Pro Valve from MC ELETTRONICA s.r.l.
The Pro Valve from MC Elettronica is a new valve for sowing control, equipped with an extremely powerful linear actuator capable of shut-off within 400 milliseconds. Due to the photoelectric sensor integrated in the valve body, the seed flow within pneumatic seed drills can be continuously monitored in real time and optimized via a control system and servomotors. This means that counting sensors can be integrated instead of just a blockage monitor, which further increases the potential of this new valve. In this way, the control and management of the seed and fertilizer flow are increased and can be fully and automatically linked to GPS-coupled application maps – an important technological step for the next generation of pneumatic seed drills.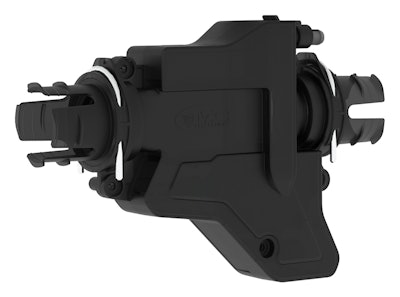 4-Point Hitch from RAU SERTA Hydraulik GmbH
Joint development with VENSYS Group and HydrokiT The 4 point hitch system is designed to create an interface between the tractor and the machine. It allows lateral motion of the tool, for example a seeder or row crop cultivator, through a simple, efficient and cost-effective hydraulic solution. The systems is easy to mount, easy to pilot and requires no effort on the lift lower arms. The Interface kit weigh just 35 kg. Compatible with GPS, 3D camera or manual driving, the 4 point hitch system offers high accuracy and fits on all tractors. A joint development with Vensys group and Hydrokit/Rau Serta, the 4 point system has passed the validation stage and is market-ready.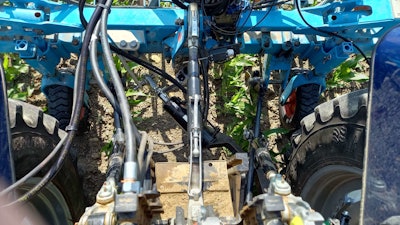 Jointly developed with HYDAC INTERNATIONAL GmbH, the safety-certified TTC 2300 control unit family is designed to increase automation and assistance systems on innovative off-highway machinery, like smart agricultural implements, agriculture machines and hybrid electric vehicles. Equipped with the second generation Infineon Aurix CPU and combined with the real-time operating system PXROS, the ECU ensures high computing performance. The robust ECU is equipped with H-Bridge which enables a motor control option for various motors in agricultural machines.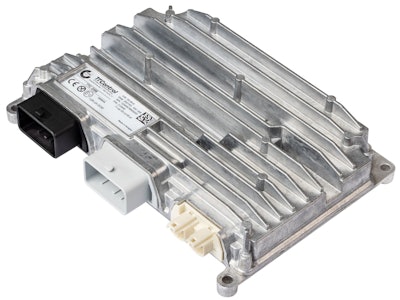 Cam Type Overrunnig Clutch F6GC from Walterscheid GmbH
With this overrunning clutch, the power flow is blocked in one direction by using cams between the housing and the hub. This ensures that the drive power is transmitted in one direction when reversing or turning the implement, an advantage because stopping inertia masses cannot damage the drive train and the machine. The direction of rotation can be adapted to the application and can be used universally in larger power classes. This compact freewheel clutch meets the demands of modern agricultural machinery drivetrains for both higher torque and more power while also freeing up valuable design space.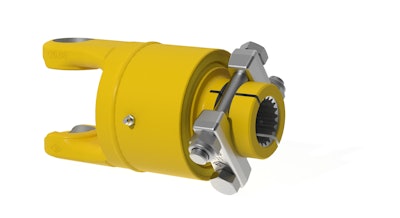 Walterscheid Connected Service Assistant from Walterscheid GmbH
Recording operating hours, utilization and maintenance requirements of the PTO shaft on farm machines, the system makes maintenance and repair instructions available on the smartphone. Easy to retrofit and with clear visual display of the data, the Bluetooth-based app monitors the condition of the fleet thus supporting farmers and contractors in maintaining machinery regardless of manufacturer, model and age. Traditionally the correct timing of maintenance for cardan shafts and its components including the right amount of lubricants is challenging as documentation on machine use is often not readily available. Through the data collected in real time, the system offers to reduce not only avoidable maintenance costs but also the time invested, promising a time saving of up to 10%.
READ MORE: Walterscheid Smart & Connected Powertrain Solutions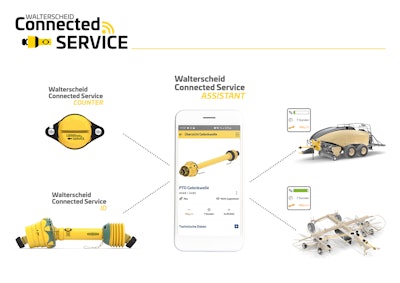 Companies in this article