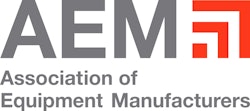 The Association of Equipment Manufacturers (AEM) announces that a team of students from Miami Valley Career Technology Center in Clayton, OH has won the 2011 AEM Construction Challenge Presented by Volvo Construction Equipment.
The team competed against 23 other teams from around the United States and Canada for the title. The competition took place March 22 to 24 in Las Vegas during the CONEXPO-CON/AGG trade show.
The 2011 Construction Challenge consisted of two parts: the H2Oh Yeah! Challenge and the Road Rumble Challenge sponsored by Ditch Witch (The Charles Machine Works).
The Road Rumble Challenge required each team to build a device that delivered construction materials from one location to another over rough terrain on a custom-designed course. The H2Oh Yeah! Challenge required students to answer questions in a game show format and then participate in a mini-challenge that involved solving real-world water infrastructure problems.
The challenges allowed students to showcase their creative problem-solving skills, knowledge of mathematics and engineering and ability to work together as a team. In addition, students were exposed to leaders in the construction industry and learned about the variety of construction careers available. The winning team received scholarships and a variety of prizes.
AEM initiated the Construction Challenge in 2007 as a response to the severe shortage of qualified workers to meet future construction needs. As a sign of its success, Volvo Construction Equipment signed on as the presenting sponsor of the competition.
The Construction Challenge blends the creative problem-solving methodology of Destination ImagiNation with subject matter from AEM to create a program that engages youth in a fun learning experience and exposes them to new careers in the construction industry. After the first year, nearly 70% of Construction Challenge participants said they are now considering a career in construction.
"These students continue to impress. Their knowledge of infrastructure and water issues and the devices they were able to build and maneuver over a tough course are a testament to the hard work they put in to prepare for the finals," says Al Cervero, senior vice president at AEM. "AEM and all of our sponsoring companies look forward to the chance to welcome them into the construction industry."
The Construction Challenge offers a chance for students, teachers, parents and community leaders to learn more about the construction industry and the need for skilled employees to deal with infrastructure problems such as crumbling bridges, overcrowded roadways and aging water and wastewater systems. The Bureau of Labor Statistics estimates that employment in the construction industry is projected to increase by 1.3 million jobs by 2018.
2011 Construction Challenge Results
Overall Winners
1st Place - Miami Valley Career Technology Center, Clayton, OH, sponsored by Ohio CAT
2nd Place - Pearce and Richardson High Schools, Dallas, TX, sponsored by Kobelco Cranes North America
3rd Place - Creekview, R.L. Turner and Newman Smith High Schools, Carrollton, TX, sponsored by Liebherr
Road Rumble Challenge Winners
1st Place - Pearce and Richardson High Schools, Dallas, TX, sponsored by Kobelco Cranes North America
2nd Place - Bartlett High School, Bartlett, IL, sponsored by Volvo Construction Equipment
3rd Place - Creekview, R.L. Turner and Newman Smith High Schools, Carrollton, TX, sponsored by Liebherr
H2Oh Yeah! Challenge Winners
1st Place - Chippewa Falls Senior High School, Chippewa Falls, WI, sponsored by Astec Industries
2nd Place - William Henry Harrison High School, Harrison, OH, sponsored by Gorman-Rupp Company
3rd Place - Bartlett High School, Bartlett, IL, sponsored by Volvo Construction Equipment