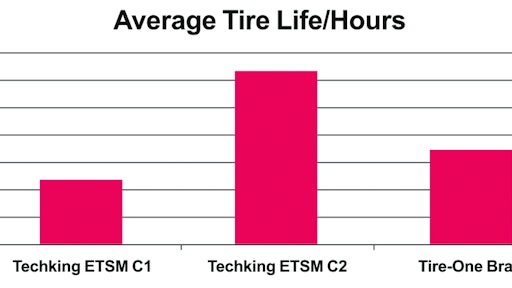 The OTR tires used in underground mining face a lot of challenges, such as rough road conditions (sharp stones, crushed stones and water) or heavy loading. Working conditions vary a lot with different mines. The manufacturer needs to understand the application and present a right design for each. Especially for underground tires, there is no such thing as 'one size fits all'. Techking underground LHD tire 18.00R25 went through this learning curve. 
At the beginning, Techking Tires experienced failure with the LHD tire 18.00R25 in a few mines. After a field study, one by one, the Techking engineering team has come up with different designs for many different underground mines worldwide. 
At a gold & copper mine in Mongolia, Techking ETSM 18.00R25 and 17.5R25 tires (C2, L5S, 2 Star) achieved an average 1,272 hours of tire life. Before the customization, the average tire life of Techking regular ETSM 18.00R25 and 17.5R25 tires (C1, L5S, 2 Star) reached approximately 500 hours, in the similar range of the tier-one brand tires.
Test Mine Information:
Country: Mongolia
Mining Category: Gold & Copper
Mine Type: Underground mining
Mine Description: An underground shaft 1,300m below surface, six shafts total under construction.
Mine Description: The largest untapped gold resources in the world.
More field reports are to be given in other mines concerning the LHD 18.00R25 underground tire. C2 (ultra cut resistant compound) is not better than C1 (cut resistant compound) in all cases. It depends heavily on the working conditions such as the road condition, travel distance, speed, loading. Simply using an ultra cut resistant tire may bring negative results. Check with Techking representatives before you put a tire on trial.  
Features of the 18.00R25 ETSM Include: 
Updated tread compound for better wearing performance 
"InnoFormula"Design creates less heat generation during running 
Virtual Two-Ply Casing is enhanced for heavy loading operation