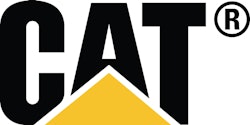 Driven by the continuing improvement in global demand for its products and its focus on cost management, Caterpillar Inc. reported first-quarter 2011 profit per share of $1.84—an all-time quarterly record and a 411% improvement from $0.36 in the first quarter of 2010. First-quarter sales and revenues of $12.949 billion were up 57% from $8.238 billion in the first quarter of 2010. Profit was a record $1.225 billion in the quarter, an increase of 426% from $233 million in the first quarter of 2010.
"I am very pleased with our first-quarter results—demand continued to improve, we increased production, cost control was excellent, and our operating profit margin improved. We generated more than $1.6 billion of operating cash flow from our Machinery and Power Systems (M&PS) businesses, an increase of more than 50%, and our debt-to-capital ratio dropped more than 4 percentage points from year-end 2010," says Chairman and Chief Executive Officer Doug Oberhelman. "We have the right strategy, and it's squarely focused on helping our customers win. Our new organization is in place, is focused on execution and is getting the job done. Given the scale of the volume ramp-up over the past year we also need to recognize the tremendous job that our suppliers and dealers have done to support us and our customers," adds Oberhelman.
"While we posted great financial results for the quarter, we were saddened by the disaster that struck Japan following the earthquake and tsunami in early March. Our thoughts and prayers are with the people in Japan who have been impacted by this disaster, including those at one Cat dealer, where two employees perished in the tsunami. I want to recognize and thank our employees in Japan, along with Caterpillar employees around the world, our suppliers and dealers as they have worked tirelessly to minimize the impact on our operations from the disaster," Oberhelman adds.
First-quarter profit was $1.225 billion compared with a profit of $233 million in the first quarter of 2010. The improvement in profit was primarily a result of significantly higher sales volume. Price realization was favorable, but the impact was more than offset by higher manufacturing, selling, general and administrative (SG&A) and research and development (R&D) expenses. In addition, $90 million of the improvement was due to the absence of a tax charge from the first quarter of 2010 related to enactment of U.S. health care legislation.
Outlook
The outlook for 2011 has improved. Sales and revenues are now expected to be in a range of $52 to $54 billion and profit in a range of $6.25 to $6.75 per share. The previous 2011 outlook was for sales and revenues to exceed $50 billion and for profit to be near $6.00 per share. The revised outlook reflects higher expected sales and revenues and higher profit per share than our previous record year of 2008 when sales and revenues were $51.3 billion and profit per share was $5.66. However, the outlook does not include the acquisitions of MWM Holding GmbH (MWM) or Bucyrus International, Inc. (Bucyrus) because they have not yet closed.
While the 2011 outlook has improved, the increase would have been greater if not for the impact of the disaster in Japan. Our facilities were not damaged by the earthquake and tsunami, but many of our suppliers in Japan were impacted. As a result, we are experiencing sporadic production disruptions at many of our facilities around the world. We expect the disruptions will have a negative impact on sales, factory efficiency and costs—particularly in the second quarter. We are working hard to minimize the impact on our business, and while the situation has steadily improved in the aftermath of the disaster, it will likely have a negative impact on 2011 sales of about $300 million and negatively impact operating profit by about $100 million.  
"We are positive about the short-term U.S. economic outlook but believe bipartisan actions are needed in Washington to improve the long-run fiscal position of the U.S. government. Instead of pointing fingers at each other, the Administration and members of Congress need to work hand in hand to find solutions that will position the U.S. economy for long-term strength. Growing jobs and reducing unemployment would significantly reduce the deficit by increasing tax revenues, opening markets by approving free trade agreements would grow exports and support jobs, and adjustments to spending programs and the tax code would improve the long-term competitiveness of the economy," says Oberhelman.
"We expect that the pace of world economic growth will support continued recovery in the key industries we serve. Caterpillar, along with our global dealer network, is uniquely positioned to serve our customers, who are building the infrastructure and delivering the commodities necessary for a growing world economy. The continuing improvement in our outlook validates our strategy to aggressively invest in additional capacity for key products. We expect capital expenditures of about $3 billion in 2011 with more than half in the United States," adds Oberhelman.
"As I recently told investors at our analyst meeting at the ConExpo trade show in Las Vegas—we're on a roll and in a hurry. We have a great strategy, and we're off to a good start, but we have room to improve and more to do to reach our goals for 2015," says Oberhelman.