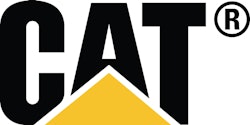 Continued improvement in demand, a company-wide focus on effectively managing the ramp-up through the Caterpillar Production System, and focused cost management drove third-quarter sales and revenues and profit for Caterpillar Inc. The company reported third-quarter 2011 profit per share of $1.71, up 40% from $1.22 per share in the third quarter of 2010. Profit was $1.141 billion, an increase of 44% from $792 million in the third quarter of 2010. Sales and revenues of $15.716 billion, an all-time record for the company, were up 41% from $11.134 billion in the third quarter of 2010.
Excluding the impacts of the recent acquisition of Bucyrus International, Inc. (Bucyrus), profit was $1.93 per share, up 58% from a year ago. Sales and revenues excluding Bucyrus were $14.581 billion, up 31% from the third quarter of 2010. Excluding the impacts of Bucyrus, it was an all-time record quarter for both sales and revenues and profit.
"I am pleased with how we're performing and optimistic about demand for our products, and that is why we are moving forward with needed investment in our business to support our long-term growth opportunities," says Caterpillar Chairman and Chief Executive Officer Doug Oberhelman. "This was the best quarter for sales in our history, and our order backlog is at an all-time high. Excluding Bucyrus impacts, this was also our best profit quarter in history, and year-to-date operating profit as a percent of sales was higher than any full year in more than three decades. Machinery and Power Systems operating cash flow has also been very positive, with the first nine months of the year better than any full year in our history," Oberhelman adds.
"We were pleased to be able to continue adding jobs—about 4,800 in the third quarter, with more than 2,000 in the United States—as demand for our products and U.S. exports continued to improve. This is a continuation of Caterpillar's strong hiring over the past couple of years. In fact, since the beginning of 2010, we have added more than 30,000 jobs to our global workforce, not including the impact of our acquisitions and divestitures," Oberhelman says.
Revised 2011 Outlook
The outlook for 2011 sales and revenues and profit has improved. Total company sales and revenues are expected to be about $58 billion in 2011. The previous outlook was a range of $56 to $58 billion. The 2011 outlook includes about $2 billion in Bucyrus sales. Excluding the impact of the Bucyrus acquisition, we expect sales and revenues will be about $56 billion in 2011; that is an improvement from the previous outlook of $54 to $56 billion.
The profit outlook has improved, and we now expect 2011 profit of about $6.75 per share. The prior outlook was a range of $6.25 to $6.75. The outlook includes a negative impact from the acquisition of Bucyrus of about $0.50 per share, which is unchanged from the previous outlook. Excluding the impact of Bucyrus, we expect 2011 profit of about $7.25 per share; the prior outlook expected profit of $6.75 to $7.25 per share.
"Although there is a good deal of economic and political uncertainty in the world, we are not seeing it much in our business at this point. We believe continued economic recovery, albeit a slow recovery, is the most likely scenario as we move forward," Oberhelman says. "2011 has been an outstanding year for Caterpillar, and we are on pace for all-time record sales and profit," Oberhelman adds.
"In the United States, we were pleased with the bipartisan approach that recently resulted in passage of Free Trade Agreements with Colombia, Panama and South Korea. That, along with growing bipartisan understanding that we need to do something positive about infrastructure in the United States, makes us hopeful that greater cooperation in Washington will result in actions that will help the economy, improve the prospects for job creation and help U.S.-based businesses compete around the world," Oberhelman says.
Preliminary 2012 Outlook
The preliminary outlook for 2012 sales and revenues is based on improving, but slow, growth in the developed parts of the world with continuing improvement in sales from what are currently low levels. Growth in developing countries in 2012 is expected to be similar to 2011, supporting higher sales of our products and services. We expect sales and revenues to improve 10 to 20% from the 2011 outlook of about $58 billion. The 2012 outlook includes a full year of Bucyrus-related sales of about $5 billion, up from a partial year of about $2 billion in 2011.
"We're having a great year in 2011, and 2012 is shaping up to be better. Our leadership team is working on plans for next year, and it looks like 2012 will see improvements in sales and revenues across our businesses," Oberhelman adds. "We are continuing to increase production levels for many of our products and expect that supply will remain tight in 2012. That's why we are making strategic investments in our business to position Caterpillar for continued success well beyond 2012," Oberhelman says. "Of course, we realize the world faces economic uncertainty and risk. A key part of our planning process is to make sure we're prepared if the situation turns negative. Each of our businesses prepares 'trough' plans—a standard practice at Caterpillar—to help us act faster should we need to take action," Oberhelman adds.