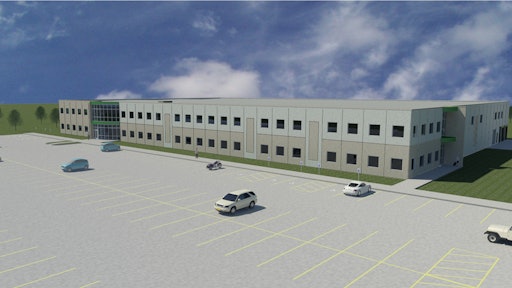 Phoenix International, a John Deere Company, broke ground on a new facility at 11 a.m., Wednesday, October 19 on the site of the new facility - 4101 19th Avenue North in Fargo. Construction is scheduled for completion in November 2012.
Deere & Company is investing $22 million in the 90,000 square foot building. The facility will primarily provide needed space for an expanding engineering staff and product design and verification labs. It will also include space for power electronics manufacturing. The new structure will increase the total number of Phoenix International facilities in the Fargo area to six with a footprint of more than 300,000 square feet. Phoenix currently employs more than 900 people in the Fargo area.
"This expansion will support the continuing growth of Phoenix International here in the Fargo area," says Phoenix International president Tom Budan. "Our growth is possible in part because of the region-wide cooperation we've received from the city of Fargo and the state of North Dakota. As we continue to grow and add to our technical workforce and resources, this new building will enable us to bring additional advanced technologies to our global customers."
North Dakota Governor Jack Dalrymple will head a list of dignitaries at the groundbreaking.
"Phoenix International has been at the forefront of North Dakota's growth and success for more than two decades and has contributed to our strong and diversified economy," says Governor Dalrymple. "This expansion not only represents additional jobs and opportunities for Phoenix International and our state, but it reflects our positive business climate and the growth and development that are continuing to set North Dakota apart from the rest of the nation."