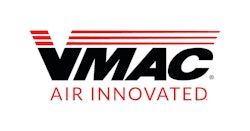 The award-winning Research and Development department at VMAC is pleased to welcome two exceptional engineering additions: Osama Jilani, an Engineering Physics graduate from the University of British Columbia (UBC) and Rob Pletcher, who graduated with a degree in Mechanical Engineering from UBC.
Osama Jilani has joined the team as a Junior Electrical Engineer. With a background in power systems (power transmission) and power electronics, he also brings experience from working in large and small organizations in the software-development and alternative electric-vehicle industries. Osama works with VMAC's expert engineering team to focus on product confirmations and designs for a new external diesel-driven system and VMAC's vehicle mounted UNDERHOOD compressors.
Rob Pletcher studied at the UBC-Okanagan Campus and, with a very mechanical background, has a wide range of experience working on equipment from Piston Bully Snow cats to transplanting a right-hand drive diesel engine into a left-hand drive four-wheel drive vehicle. His previous experience included coordinating large environmental cleanups and general hazardous waste project management. He also worked with building demolition and soil remediation, and as a maintenance engineer directing multiple mechanics for accurate and efficient completion of heavy equipment repairs. Rob will join VMAC's world-class engineering team with a focus on new product development and innovation.