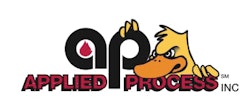 The Applied Process family of companies announces the sale of its Suzhou AiPu Component Manufacturing Co. (doing business as AP Suzhou) to minority partners David Chang (Chang Lai Wang), as President, and Andy Chen (Chen Ming Chi), as Vice President. The local Suzhou ADI General Manager will be Bryan Xia (Xia Yong). Xia has extensive industrial and heat treating experience and received special training at Applied Process in the U.S.
AP Suzhou, in operation for five years, is an ISO certified, world-class Austempering facility located in Suzhou, Jiangsu Province, China (west of Shanghai). AP Suzhou's customers include heavy truck and bus, miscellaneous machinery, agricultural machinery, turf care, construction machinery and railroad components.
The new company, doing business as Suzhou ADI, will join its sister company Jilin ADI as technical and marketing licensees of Applied Process Inc., working to grow the pie for Austempering in China. The facilities, combined, offer three UBQA-type Austempering lines for commercial processing and the new owners have plans to increase capacity to address the needs of the growing China market.
The new owners, Chang and Chen, are also the owners of Shanghai Powermax, a producer of industrial heat treating equipment, producing Austempering equipment under technical license to AFC-Holcroft (USA). They introduced Applied Process to the China market in 2004 and have long recognized the opportunity for a high quality Austempering service provider in the Chinese manufacturing community.
Applied Process will work closely with Suzhou ADI, Jilin ADI, and its other licensees, ADI Engineering Process and Heat Treatment (Australia), ADI Treatments (UK), and Hightemp (India) to nurture the growing demand for high quality Austempering worldwide.