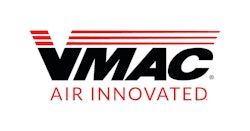 VMAC's award-winning Research and Development department is pleased to welcome an exceptional mechanical engineer to the team: Kyle McWilliam, a Mechanical Engineering graduate from the University of Victoria.
Prior to completing the university's Engineering program, Kyle completed the Mechanical Engineering Technology program and the Bridge Program from Camosun College. His final project at Camosun was an electro-pneumatic hand control system to allow paraplegic drivers to operate vehicles equipped with manual transmissions.
Kyle's engineering background includes experience with yacht construction, composites R&D and aviation industries. He has also been involved in CNC machining and metal fabrication of new designs. In his free time, Kyle pursues other aspects of mechanical engineering including rebuilding and modifying vehicle engines, and designing and building suspension systems, bumpers and roll cages for off-road vehicles.
Kyle works with VMAC's expert engineering team with a focus on new and updated VR applications, the RAPTAIR60 Diesel Drive system and new product development.