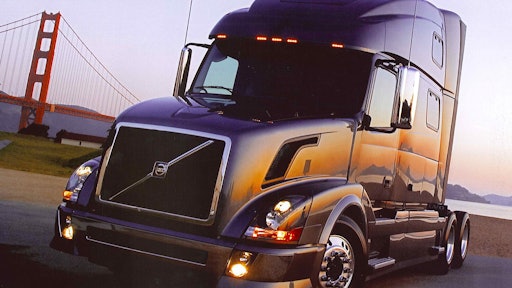 SABIC's Innovative Plastics business announces a major new sustainability milestone with its longstanding customer, Volvo Trucks: the first use of an up-cycled material in a North American heavy truck from post-consumer recycled (PCR) content. Specifically, SABIC's Valox iQ polybutylene terephthalate (PBT) resin, which incorporates up-cycled water bottles, is used for the brackets of the side air deflection system for all seven models in the 2012 Volvo VN platform of heavy trucks. Valox iQ resin not only helps Volvo deliver top performance under harsh driving conditions, but also contributes toward greater sustainability. Additional SABIC solutions used to further enhance sustainability and performance in Volvo VN trucks include lightweight Noryl GTX resin for the fenders, tough Cycoloy resin for the grille and clear Lexan resin for forward lighting. This joint achievement by Volvo Trucks and SABIC is the latest in a series of standard-raising innovations that deliver environmental benefits.
Choosing Valox iQ resin enabled Volvo Trucks to develop a sustainable, high performance solution with the outstanding quality its customers have come to expect. SABIC not only provided the up-cycled PCR resin, but also the application development and technical support to help the world-leading truck manufacturer turn the design into a tangible part and make progress on its sustainability goals.
"We applaud Volvo Trucks for its leadership in incorporating an environmentally progressive material with outstanding performance for the manufacture of its trucks," says Michael Gilbert, general manager, Innovative Plastics. "We are also proud of the effective shoulder-to-shoulder collaboration that has taken place. We have enjoyed a close working relationship with Volvo Trucks; one that has paved the way for us to deliver the kind of design, engineering, testing and processing support that made possible an innovative transportation solution with less environmental impact."
SABIC's Valox iQ resin may contain up to 60% PCR content and can help reduce the resin's carbon footprint by as much as 49% vs. virgin PBT resins. Yet, unlike other recycled materials, which lose performance through successive melt histories, Valox iQ resins are up-cycled to deliver comparable or better performance than conventionally manufactured materials. As a result, Valox iQ resin delivers excellent resistance to impact, chemicals and stress fatigue.
Multiple Roads to More Sustainable Design
The Volvo VN truck platform demonstrates the many different ways that SABIC materials can contribute to improved sustainability. SABIC PCR grades such as Valox iQ resin help to divert discarded plastic from landfills while delivering equal or better performance compared to traditional resins. Other materials, such as Noryl GTX and Cycoloy resins, help to improve fuel economy by significantly reducing weight in large vehicle components by replacing traditional metal and other materials.
Enabling Environmental Accountability Worldwide
"We are pleased that our lightweight, versatile thermoplastic materials are helping Volvo Trucks and other truck manufacturers stay ahead of global trends in heavy truck design, including the drive for greater fuel efficiency and reduced carbon emissions," says V. Umamaheswaran (UV), marketing director, Innovative Plastics. "Improving efficiency and meeting the rising demands for environmental accountability are a significant focus for truck OEMs across the world. Our broad portfolio of solutions, combined with the globally-networked application development support that we have in place, means that we can deliver truly worldwide and fully integrated capabilities to our valued customers in this industry."