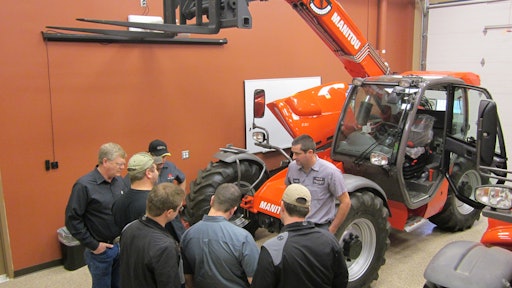 Manitou Americas, Inc. has invested in a dedicated training facility for its XPRT Training department at its Madison, SD location. The facility, consisting of 8,100 sq. ft. of indoor training space and a 62,000 sq. ft. outdoor demo area, hosts sales and service training courses for the Gehl, Manitou and Mustang dealer networks.
The indoor facility includes an area for welding instruction, an exhaust recovery system and classroom space with state-of-the-art presentation technology. The exhaust recovery system allows engine operation for hydraulic and electrical testing. The outdoor demo area includes a 269 sq. ft. climate-controlled viewing trailer that allows attendees to view product demonstrations in all weather conditions.
This investment in the XPRT Training department provides Manitou Americas with the capability to deliver flexible training sessions, resulting in increased product and service knowledge within the network of independent dealerships. This ensures that Gehl, Manitou and Mustang equipment owners receive a high level of service at the dealership level throughout the entire machine life cycle.
"The creation of this dedicated facility is an investment in the future development of the Gehl, Manitou and Mustang dealer networks throughout the Americas. It allows us to develop an expanded training curriculum, accessible to a larger number of dealers. And this allows us, as the manufacturer, to ensure that the equipment owner receives outstanding sales and service support from their local dealer," says Craig Hammann, Director of Customer Support – Manitou Americas, Inc.
The first service training session was held at the new XPRT Training facility on March 19, 2012. Technicians from around North America, including Quebec, attended this session. Attendees were instructed on the proper servicing of critical components and diagnostics of electrical and hydraulic systems of these products. A comprehensive training schedule has been released to the Gehl, Manitou and Mustang dealer networks in the Americas for 2012. Upcoming training sessions include instruction on advanced engine emissions systems, electronic control of hydrostatic drive and hydraulic control systems as used in Gehl, Manitou and Mustang product lines.