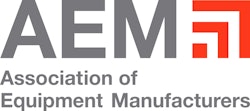 The CE Sector Board of the Association of Equipment Manufacturers (AEM) has elected two new directors: Tim Ford of Terex Corporation and Dave Foster of Volvo Construction Equipment NA Inc.
Ford is President, Terex Aerial Work Platforms for Terex Corporation and fills an open position. Dave Foster is Vice President Marketing & Communications for Volvo Construction Equipment NA Inc. and fills an unexpired term.
The CE Sector Board is AEM's Board-level group focused on the construction sector: it determines and recommends strategic direction and develops and directs programs, services and activities.
AEM directors help set the guidelines and operating policies of the association on behalf of its members in areas including public policy, equipment statistics and market information, trade shows, technical and product safety support, global business development, education and training, workforce development, and worksite safety and educational materials.