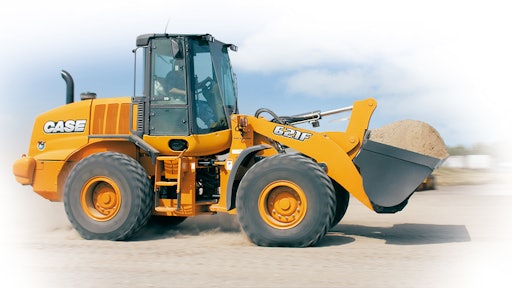 The Case 521F and 621F bring new levels of profit to mid-weight wheel loader owners, offering a 10% fuel saving with Tier 4 Interim engines, less tire wear and maintenance from heavy-duty axles with open differentials, increased productivity from a 100% locking front differential lock, and an effective cooling solution for dusty environments. The machines also offer increased maintenance safety with ground level access to all service points.
10% Fuel Savings
The 521F and 621F use 4.7 liter and 6.7 liter second generation FPT common rail diesel engines to deliver high performance with 10% lower fuel consumption. To meet the Tier 4 Interim standard, as with larger Case F Series models, the 521F and 621F use selective catalytic reduction (SCR) with AdBlue. There is no requirement for a costly diesel particulate filter and this well proven solution results in a 10% fuel saving and improved engine performance compared with the previous generation.
Operators can choose from four working modes: Max, Economy, Normal and Auto. This allows the operator to find the most effective solution for every application. An outstanding flat torque curve delivers rapid response to power demands, boosting digging and loading performance, and providing rapid acceleration for load and carry operation.
Productivity Boosting Drivetrain With Reduced Maintenance
The two loaders drive through a proven ZF auto Powershift transmission to new heavy-duty axles front and rear. Designed with a three-piece housing, the axles use wet multiple disc brakes for maximum stopping power with low maintenance requirements.
The front axle offers a 100% Auto-lock facility, a big improvement over the 75% lock offered by a limited slip differential. This delivers maximum digging traction when attacking a face or stockpile, ensuring reduced cycle times.
As there is no slip between the wheels, tire wear is reduced by 20 to 30% and axle oil intervals are increased by 50%, offering major operating cost savings for the customer.
Cooling Pack Offers Less Maintenance And Increased Durability
F Series Case wheel loaders use a cooling pack design, with five radiators that are mounted to form a cube around the cooling fan breathing clean air from the sides and top. This cooling pack design sits in the middle of the machine, behind the cab, out of the dust and dirt thrown up by the machine's rear wheels.
An additional benefit of this location is that the engine is mounted at the rear of the loader chassis, reducing the need for additional counterweight and providing unparalleled access for service and maintenance work. This also reduces unnecessary weight on the rear axle, prolonging component life.
A reversible fan is standard and its low operating speed offers lower noise levels and vibrations in the cab. Cool air is drawn in from above the pack and the sides of the machine, then blown out of the rear of the loader over the engine. The high efficiency of this cooling system lengthens the life of the coolant fluid by 500 hours to 1,500 hour intervals.
Unequalled Steering Comfort
The 521F and 621F can be specified with the optional joystick steering system, for maximum comfort during repetitive loading cycles. Operators can also choose between a single servo lever to operate the bucket control or a twin lever layout.
Easy Service Access
With the engine mounted at the rear of the machine, and a large tilting one-piece engine canopy, ground level access to all service and maintenance points is simple. All drain points are located together, reducing downtime for regular maintenance.
Thanks to improved cooling efficiency, transmission oil and filter changes, axle oil and filters and the coolant are all changed at 1,500 hours now, reducing operating cost. The position of the cooling pack behind the cab also results in less requirement for cleaning, with the standard reversible fan pushing dirt and dust away from the radiators regularly.